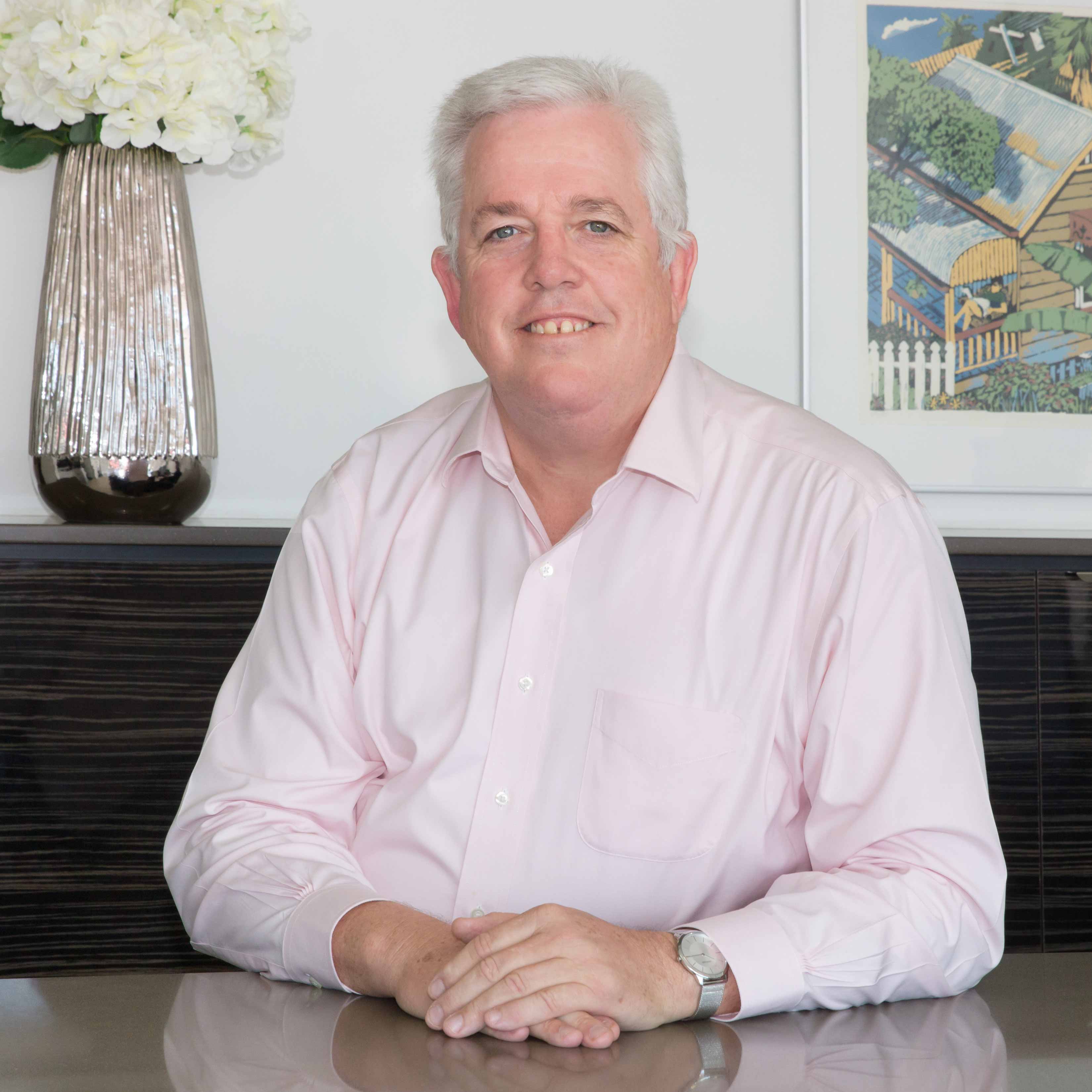 Peter D'Arcy - Principal & Sales Agent
0412 738 009
peterd@darcy.com.au
Peter D'Arcy has been a real estate agent since 1981, owning the business with wife Peta since 1987 and operating in Ashgrove, Bardon and The Gap and their surrounds.
Peter understands what a home really means to his customers. He is wildly energetic when it comes to helping people buy and sell residential property and he loves being able to assist people with the right tools in order to help his clients move together. His results demonstrate the value of his deep market expertise, skilled negotiations and management experience. What really sets him apart is his commitment to the local areas – his local knowledge, and the enduring relationships he has developed over the decades he has lived in the community.
Peter and Peta have 4 daughters and they are very fortunate to have them working in the business. Peter lives, breathes and sleeps real estate, so please, drop him a line or give him a buzz on the phone, he is always up for a good chat about how the market is going.
4/18 Jubilee Tc, ASHGROVE
$415,000
2 bed • 1 bath • 1 car
46/40 Nathan Av, ASHGROVE
$587,000
2 bed • 2 bath • 1 car
$1,071,000
3 bed • 1 bath • 1 car
5 Sicklefield Rd, ENOGGERA
$735,000
2 bed • 1 bath • 1 car
$752,000
3 bed • 2 bath • 2 car
1/102 Rockbourne Tc, PADDINGTON
$495,000
2 bed • 1 bath • 1 car
$1,265,000
3 bed • 3 bath • 2 car
2/640 Waterworks Rd, ASHGROVE
$315,000
1 bed • 1 bath • 1 car
$885,000
3 bed • 2 bath • 1 car
9/55 Dalmore St, ASHGROVE
$900,000
3 bed • 2 bath • 2 car
Call to request info
3 bed • 2 bath • 1 car
$2,205,000
3 bed • 2 bath • 2 car
73 Menzies St, PETRIE TERRACE
Contact Agent
5 bed • 5 bath • 1 car
$1,295,000
3 bed • 1 bath • 1 car
$427,000
2 bed • 1 bath • 1 car
3/134 Hardgrave Rd, WEST END
$1,034,000
3 bed • 2 bath • 2 car
10 Mirrabooka Rd, ASHGROVE
$1,550,000
3 bed • 1 bath • 1 car
$1,150,000
3 bed • 2 bath • 2 car
879 Waterworks Rd, THE GAP
$795,000
3 bed • 1 bath • 1 car
$415,000
2 bed • 1 bath • 1 car
$2,050,000
3 bed • 1 bath • 1 car
407/28 Wolseley St, WOOLLOONGABBA
$470,000
2 bed • 2 bath • 1 car
$823,000
2 bed • 1 bath • 1 car
8 Magpie Pl, UPPER KEDRON
$1,210,000
5 bed • 2 bath • 2 car
$1,525,000
2 bed • 1 bath • 1 car
$395,500
2 bed • 1 bath • 1 car
158 Waterworks Rd, ASHGROVE
$1,050,000
4 bed • 3 bath • 2 car
$465,000
2 bed • 2 bath • 1 car
$1,290,000
3 bed • 2 bath • 2 car
4/245 Pickering St, GAYTHORNE
$317,500
2 bed • 1 bath • 1 car
$1,525,000
3 bed • 1 bath • 1 car
$1,485,000
3 bed • 1 bath • 1 car
$1,730,000
5 bed • 4 bath • 4 car
48/40 Nathan Av, ASHGROVE
$495,000
2 bed • 2 bath • 1 car
6/109 Musgrave Rd, RED HILL
$320,000
2 bed • 1 bath • 1 car
$1,347,500
4 bed • 1 bath • 1 car
2/43-47 Stewart Rd, ASHGROVE
$530,000
3 bed • 2 bath • 1 car
$800,000
4 bed • 1 bath • 1 car
$970,000
3 bed • 2 bath • 2 car
1/183 Fernberg Rd, PADDINGTON
$930,000
3 bed • 3 bath • 2 car
1/18 Jubilee Tc, ASHGROVE
$322,500
2 bed • 1 bath • 1 car
$936,800
3 bed • 1 bath • 1 car
$790,000
3 bed • 1 bath • 2 car
$1,705,000
5 bed • 3 bath • 2 car
$511,000
2 bed • 2 bath • 1 car
$842,000
4 bed • 1 bath • 2 car
$825,000
3 bed • 2 bath • 2 car
$865,000
3 bed • 1 bath • 2 car
$1,185,000
3 bed • 1 bath • 1 car
$531,000
1 bed • 1 bath • 1 car
7/743 Brunswick St, NEW FARM
$470,000
2 bed • 1 bath • 1 car
$692,500
3 bed • 2 bath • 1 car
$707,500
3 bed • 2 bath • 2 car
$1,290,000
2 bed • 3 bath • 2 car
$356,000
2 bed • 1 bath • 2 car
6/46 Dalmore St, ASHGROVE
$495,000
2 bed • 2 bath • 2 car
67 Grevillea Rd, ASHGROVE
$1,320,000
3 bed • 1 bath • 1 car
40 Weatherhead Av, ASHGROVE
$1,275,000
4 bed • 2 bath • 2 car
$550,000
2 bed • 2 bath • 2 car
$595,000
3 bed • 2 bath • 2 car
$1,520,000
5 bed • 2 bath • 1 car
3/82 Wagner Rd, CLAYFIELD
$650,000
3 bed • 2 bath • 2 car
$753,000
4 bed • 1 bath • 2 car
$755,000
3 bed • 1 bath • 1 car
4/1 Jacaranda Ln, RED HILL
$510,000
2 bed • 2 bath • 1 car
30 Cedarhurst St, THE GAP
$885,000
3 bed • 1 bath • 2 car
$280,000
1 bed • 1 bath • 1 car
2/22 Kennedy Tc, PADDINGTON
47 Clifton St, PETRIE TERRACE
$1,027,500
4 bed • 1 bath • 2 car
$567,000
3 bed • 2 bath • 1 car
$850,000
4 bed • 1 bath • 3 car
1 Sicklefield Rd, ENOGGERA
$513,750
2 bed • 1 bath • 1 car
21/43 Ashgrove Av, ASHGROVE
$472,250
2 bed • 2 bath • 1 car
26 Princess St, PETRIE TERRACE
$1,215,000
3 bed • 1 bath • 1 car
102/22 Nathan Av, ASHGROVE
$470,000
2 bed • 2 bath • 1 car
$542,500
2 bed • 2 bath • 4 car
$950,000
4 bed • 2 bath • 1 car
$1,028,000
3 bed • 1 bath • 1 car
$405,000
2 bed • 1 bath • 1 car
29 Glenquarie Pl, ASHGROVE
$971,250
4 bed • 2 bath • 1 car
$610,000
3 bed • 1 bath • 2 car
3/40 Jubilee Tc, ASHGROVE
$303,000
2 bed • 1 bath • 1 car
$885,000
3 bed • 1 bath • 2 car
$925,000
3 bed • 1 bath • 1 car
719 Waterworks Rd, THE GAP
$662,000
4 bed • 2 bath • 2 car
$1,100,000
4 bed • 2 bath • 2 car
$380,000
2 bed • 1 bath • 1 car
$1,127,000
4 bed • 3 bath • 2 car
$1,335,000
5 bed • 2 bath • 2 car
101 Sizer St, EVERTON PARK
$560,000
2 bed • 1 bath • 1 car
$737,500
3 bed • 1 bath • 2 car
$1,544,200
5 bed • 3 bath • 2 car
$1,100,000
4 bed • 2 bath • 2 car
37b Beth Eden Tc, ASHGROVE
$580,000
3 bed • 2 bath • 2 car
$725,000
4 bed • 1 bath • 2 car
$990,000
6 bed • 2 bath • 2 car
75 Buckingham St, ASHGROVE
$910,000
3 bed • 1 bath • 1 car
3/168 Waterworks Rd, ASHGROVE
$333,500
2 bed • 1 bath • 1 car
25 Browns Dip Rd, ENOGGERA
850000
5 bed • 2 bath • 2 car
$585,000
5 bed • 1 bath • 1 car
$332,500
2 bed • 1 bath • 1 car
$1,170,000
4 bed • 2 bath • 2 car
6/26 Dalmore St, ASHGROVE
$402,500
2 bed • 2 bath • 1 car
312 Harcourt St, TENERIFFE
51 Holmesbrook St, ASHGROVE
$1,215,000
3 bed • 3 bath • 2 car
$362,500
2 bed • 1 bath • 1 car
$349,000
2 bed • 1 bath • 2 car
$1,155,000
3 bed • 2 bath • 4 car
$615,000
3 bed • 1 bath • 2 car
$855,000
3 bed • 1 bath • 1 car
$850,000
3 bed • 1 bath • 2 car
$340,000
2 bed • 1 bath • 1 car
$440,000
2 bed • 2 bath • 1 car
$330,000
2 bed • 1 bath • 1 car
13/39 Mt Nebo Rd, THE GAP
38/147-153 Lambert St, KANGAROO POINT
$450,000
2 bed • 2 bath • 2 car
9 St Vincent St, ASHGROVE
$1,575,000
4 bed • 2 bath • 2 car
15 Claremont St, RED HILL
9/104 Musgrave Rd, RED HILL
$225,000
1 bed • 1 bath • 1 car
$715,000
4 bed • 2 bath • 2 car
$336,500
2 bed • 1 bath • 1 car
$1,625,000
4 bed • 2 bath • 2 car
1/16 Wellington Rd, RED HILL
$1,007,500
4 bed • 3 bath • 5 car
$350,000
2 bed • 1 bath • 1 car
3/9 Trackson St, ALDERLEY
$325,000
2 bed • 1 bath • 1 car
$1,400,000
5 bed • 2 bath • 2 car
26/60 Leitchs Rd South, ALBANY CREEK
$490,000
3 bed • 2 bath • 2 car
$603,000
3 bed • 1 bath • 2 car
$956,700
4 bed • 2 bath • 1 car
18/43 Ashgrove Av, ASHGROVE
$440,000
2 bed • 2 bath • 1 car
$310,000
2 bed • 1 bath • 1 car
$830,000
3 bed • 1 bath • 1 car
Sold
4 bed • 1 bath • 1 car
280 Waterworks Rd, ASHGROVE
$715,500
3 bed • 1 bath • 2 car
991 Waterworks Rd, THE GAP
$537,500
3 bed • 1 bath • 1 car
$575,000
4 bed • 1 bath • 2 car
$775,000
3 bed • 1 bath • 4 car
106/32 Nathan Av, ASHGROVE
$450,000
2 bed • 2 bath • 1 car
$800,000
3 bed • 2 bath • 1 car
$350,000
2 bed • 1 bath • 1 car
15 Sicklefield Rd, ENOGGERA
$562,500
4 bed • 2 bath • 2 car
$1,400,000
4 bed • 2.5 bath • 2 car
$1,135,000
4 bed • 2 bath • 2 car
$700,000
3 bed • 2 bath • 4 car
$430,000
4 bed • 1 bath • 1 car
4/15 Dunkirk St, GAYTHORNE
$269,500
2 bed • 1 bath • 1 car
14/39 Mt Nebo Rd, THE GAP
$590,000
3 bed • 2 bath • 1 car
$430,000
2 bed • 2 bath • 2 car
$450,000
2 bed • 2 bath • 2 car
$410,000
2 bed • 2 bath • 1 car
$944,000
4 bed • 2 bath • 2 car
$348,500
2 bed • 1 bath • 2 car
2/23 Quinton St, KANGAROO POINT
$220,000
1 bed • 1 bath • 1 car
$500,000
2 bed • 2 bath • 2 car
$1,200,000
5 bed • 2 bath • 2 car
$1,050,000
3 bed • 2 bath • 2 car
$720,000
4 bed • 2 bath • 2 car
$1,025,000
5 bed • 3 bath • 2 car
$980,000
4 bed • 3 bath • 1 car
158 Waterworks Rd, ASHGROVE
$550,000
3 bed • 2 bath • 1 car
$835,000
3 bed • 1 bath • 1 car
17 Sicklefield Rd, ENOGGERA
$453,750
4 bed • 2 bath • 3 car
$1,080,000
4 bed • 3 bath • 2 car
$900,000
3 bed • 1 bath • 1 car
$352,000
2 bed • 1 bath • 1 car
$735,000
3 bed • 1 bath • 1 car
3/39 Beth Eden Tc, ASHGROVE
$529,250
3 bed • 2 bath • 1 car
368 Webster Rd, STAFFORD HEIGHTS
$437,500
4 bed • 2 bath • 4 car
$630,000
3 bed • 1 bath • 2 car
$525,000
4 bed • 2 bath • 3 car
$485,000
3 bed • 2 bath • 1 car
$365,000
2 bed • 2 bath • 1 car
$662,000
4 bed • 1 bath • 3 car
76 Spence Rd, WAVELL HEIGHTS
$610,000
3 bed • 1 bath • 2 car
6/5 Whytecliffe St, ALBION
$332,500
2 bed • 2 bath • 1 car
$884,214
5 bed • 3 bath • 2 car
$800,000
4 bed • 3 bath • 2 car
1/14 Balmain Tc, RED HILL
$600,000
3 bed • 2 bath • 1 car
$442,500
2 bed • 2 bath • 2 car
208/22 Nathan Av, ASHGROVE
$477,250
2 bed • 2 bath • 1 car
24 Bunowen St, FERNY GROVE
$487,500
4 bed • 1 bath • 1 car
3/5 Whytecliffe St, ALBION
$350,000
2 bed • 2 bath • 1 car
$735,000
4 bed • 3 bath • 2 car
5 Ferneydell St, ASHGROVE
$790,000
4 bed • 2 bath • 1 car
$865,000
5 bed • 2 bath • 2 car
34 Barrabooka Dr, THE GAP
$600,000
3 bed • 2 bath • 2 car
$840,000
4 bed • 2 bath • 2 car
$388,000
2 bed • 2 bath • 1 car
$840,000
3 bed • 1 bath • 2 car
$305,000
2 bed • 2 bath • 1 car
$450,000
2 bed • 2 bath • 1 car
13/19 Nitawill St, EVERTON PARK
$280,000
2 bed • 1 bath • 1 car
$419,000
2 bed • 2 bath • 1 car
31/14 Paltarra St, THE GAP
$500,000
2 bed • 2 bath • 2 car
55/1060 Waterworks Rd, THE GAP
$535,000
3 bed • 3 bath • 2 car
$885,000
5 bed • 3 bath • 2 car
49 Holmesbrook St, ASHGROVE
$965,000
3 bed • 1 bath • 1 car
$635,000
4 bed • 1 bath • 2 car
$1,259,000
4 bed • 3 bath • 2 car
35 Willandra St, ENOGGERA
$570,000
2 bed • 1 bath • 1 car
$356,500
2 bed • 2 bath • 2 car
$499,500
3 bed • 1 bath • 1 car
$655,000
4 bed • 3 bath • 2 car
$585,000
3 bed • 1 bath • 2 car
$215,000
1 bed • 1 bath • 1 car
$592,500
4 bed • 3 bath • 2 car
$1,070,000
4 bed • 3 bath • 2 car
$610,000
3 bed • 2 bath • 2 car