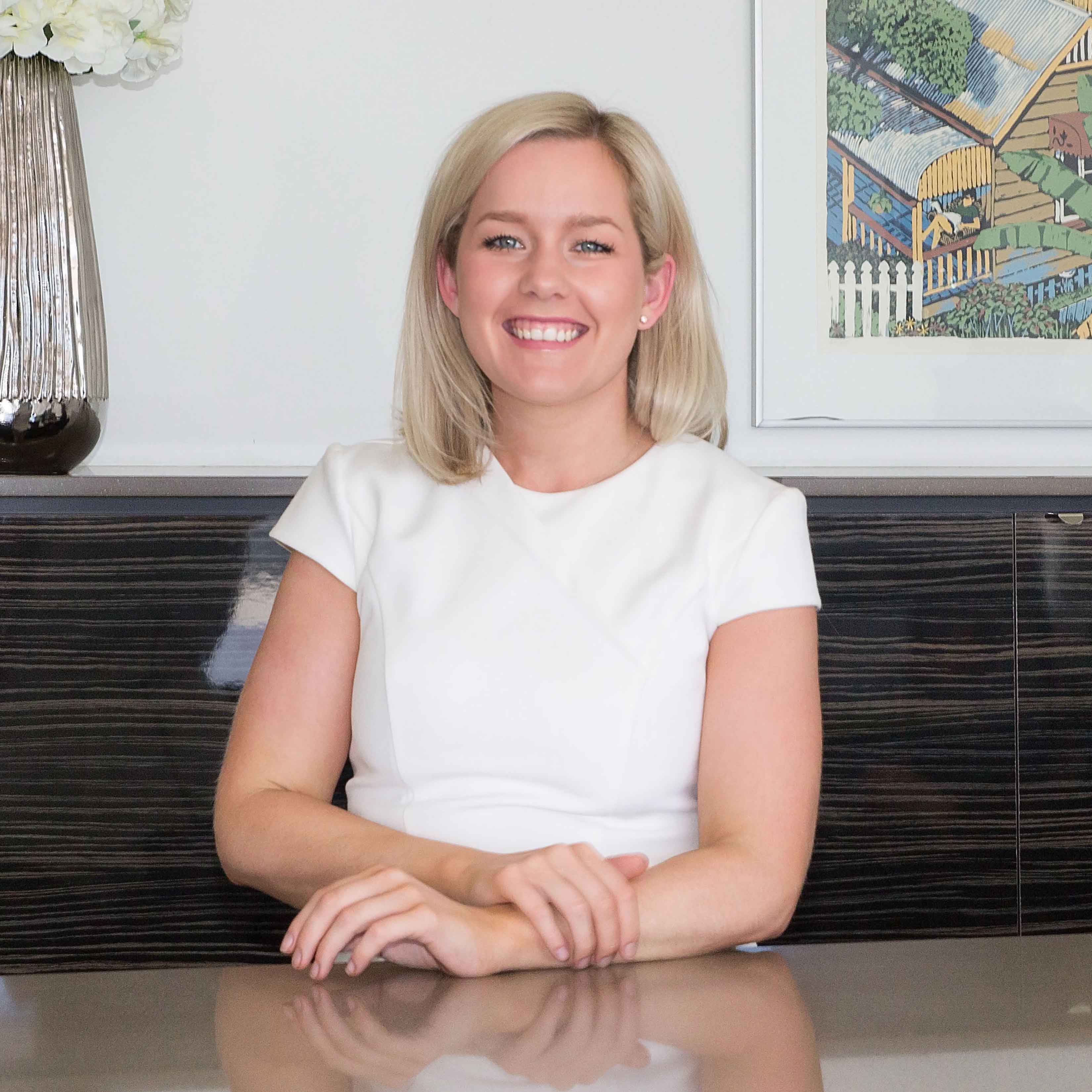 Bonnie D'Arcy - Sales Agent
0411 262 267
bonnied@darcy.com.au
Having the chance to start at the bottom of an industry in 2007 and work her way up through the ranks has been one of the most rewarding opportunities for Bonnie to date. After leaving school with a very unflattering OP and no idea of what she wanted to do, she started on the front desk at D'Arcy Estate Agents - It was the perfect place to start, giving her a wonderful understanding of the agency business.
Now she is listing and selling, and loves the fast pace work where no two days are the same. Bonnie finds the interesting and challenging situations very stimulating and a wonderful opportunity to learn.
Bonnie is able to help her customers in a more meaningful and understanding manner as she has been at the heart of the real estate conversation ever since she could talk. What Bonnie truly offers to her customers is her ability to form a true partnership and be their trusted advisor in what is a lot of the time, a very overwhelming experience when buying or selling residential property.
When it all boils down, the two things she enjoys most is the independence and autonomy along with the people she meets along the way. Bonnie is a people person at heart and loves helping people. She understands that agents play a major role in the district, helping people move and make decisions about one of the most important aspects of their life.
4/18 Jubilee Tc, ASHGROVE
$415,000
2 bed • 1 bath • 1 car
46/40 Nathan Av, ASHGROVE
$587,000
2 bed • 2 bath • 1 car
$1,071,000
3 bed • 1 bath • 1 car
5 Sicklefield Rd, ENOGGERA
$735,000
2 bed • 1 bath • 1 car
$752,000
3 bed • 2 bath • 2 car
1/102 Rockbourne Tc, PADDINGTON
$495,000
2 bed • 1 bath • 1 car
$1,265,000
3 bed • 3 bath • 2 car
2/640 Waterworks Rd, ASHGROVE
$315,000
1 bed • 1 bath • 1 car
$885,000
3 bed • 2 bath • 1 car
9/55 Dalmore St, ASHGROVE
$900,000
3 bed • 2 bath • 2 car
Call to request info
3 bed • 2 bath • 1 car
$2,205,000
3 bed • 2 bath • 2 car
73 Menzies St, PETRIE TERRACE
Contact Agent
5 bed • 5 bath • 1 car
$1,295,000
3 bed • 1 bath • 1 car
$427,000
2 bed • 1 bath • 1 car
3/134 Hardgrave Rd, WEST END
$1,034,000
3 bed • 2 bath • 2 car
10 Mirrabooka Rd, ASHGROVE
$1,550,000
3 bed • 1 bath • 1 car
$1,150,000
3 bed • 2 bath • 2 car
879 Waterworks Rd, THE GAP
$795,000
3 bed • 1 bath • 1 car
$415,000
2 bed • 1 bath • 1 car
$2,050,000
3 bed • 1 bath • 1 car
407/28 Wolseley St, WOOLLOONGABBA
$470,000
2 bed • 2 bath • 1 car
$823,000
2 bed • 1 bath • 1 car
8 Magpie Pl, UPPER KEDRON
$1,210,000
5 bed • 2 bath • 2 car
$1,525,000
2 bed • 1 bath • 1 car
$395,500
2 bed • 1 bath • 1 car
158 Waterworks Rd, ASHGROVE
$1,050,000
4 bed • 3 bath • 2 car
$465,000
2 bed • 2 bath • 1 car
$1,290,000
3 bed • 2 bath • 2 car
4/245 Pickering St, GAYTHORNE
$317,500
2 bed • 1 bath • 1 car
$1,525,000
3 bed • 1 bath • 1 car
$1,485,000
3 bed • 1 bath • 1 car
$1,730,000
5 bed • 4 bath • 4 car
48/40 Nathan Av, ASHGROVE
$495,000
2 bed • 2 bath • 1 car
6/109 Musgrave Rd, RED HILL
$320,000
2 bed • 1 bath • 1 car
$1,347,500
4 bed • 1 bath • 1 car
2/43-47 Stewart Rd, ASHGROVE
$530,000
3 bed • 2 bath • 1 car
$800,000
4 bed • 1 bath • 1 car
$970,000
3 bed • 2 bath • 2 car
1/183 Fernberg Rd, PADDINGTON
$930,000
3 bed • 3 bath • 2 car
1/18 Jubilee Tc, ASHGROVE
$322,500
2 bed • 1 bath • 1 car
$936,800
3 bed • 1 bath • 1 car
$790,000
3 bed • 1 bath • 2 car
$1,705,000
5 bed • 3 bath • 2 car
$511,000
2 bed • 2 bath • 1 car
$842,000
4 bed • 1 bath • 2 car
$825,000
3 bed • 2 bath • 2 car
$865,000
3 bed • 1 bath • 2 car
$1,185,000
3 bed • 1 bath • 1 car
$531,000
1 bed • 1 bath • 1 car
7/743 Brunswick St, NEW FARM
$470,000
2 bed • 1 bath • 1 car
$692,500
3 bed • 2 bath • 1 car
$707,500
3 bed • 2 bath • 2 car
$1,290,000
2 bed • 3 bath • 2 car
$356,000
2 bed • 1 bath • 2 car
6/46 Dalmore St, ASHGROVE
$495,000
2 bed • 2 bath • 2 car
67 Grevillea Rd, ASHGROVE
$1,320,000
3 bed • 1 bath • 1 car
40 Weatherhead Av, ASHGROVE
$1,275,000
4 bed • 2 bath • 2 car
$550,000
2 bed • 2 bath • 2 car
$595,000
3 bed • 2 bath • 2 car
$1,520,000
5 bed • 2 bath • 1 car
3/82 Wagner Rd, CLAYFIELD
$650,000
3 bed • 2 bath • 2 car
$753,000
4 bed • 1 bath • 2 car
$755,000
3 bed • 1 bath • 1 car
4/1 Jacaranda Ln, RED HILL
$510,000
2 bed • 2 bath • 1 car
30 Cedarhurst St, THE GAP
$885,000
3 bed • 1 bath • 2 car
$280,000
1 bed • 1 bath • 1 car
2/22 Kennedy Tc, PADDINGTON
47 Clifton St, PETRIE TERRACE
$1,027,500
4 bed • 1 bath • 2 car
$567,000
3 bed • 2 bath • 1 car
$850,000
4 bed • 1 bath • 3 car
1 Sicklefield Rd, ENOGGERA
$513,750
2 bed • 1 bath • 1 car
21/43 Ashgrove Av, ASHGROVE
$472,250
2 bed • 2 bath • 1 car
26 Princess St, PETRIE TERRACE
$1,215,000
3 bed • 1 bath • 1 car
102/22 Nathan Av, ASHGROVE
$470,000
2 bed • 2 bath • 1 car
$542,500
2 bed • 2 bath • 4 car
$950,000
4 bed • 2 bath • 1 car
$1,028,000
3 bed • 1 bath • 1 car
$405,000
2 bed • 1 bath • 1 car
29 Glenquarie Pl, ASHGROVE
$971,250
4 bed • 2 bath • 1 car
$610,000
3 bed • 1 bath • 2 car
3/40 Jubilee Tc, ASHGROVE
$303,000
2 bed • 1 bath • 1 car
$885,000
3 bed • 1 bath • 2 car
$925,000
3 bed • 1 bath • 1 car
719 Waterworks Rd, THE GAP
$662,000
4 bed • 2 bath • 2 car
$1,100,000
4 bed • 2 bath • 2 car
$380,000
2 bed • 1 bath • 1 car
$1,127,000
4 bed • 3 bath • 2 car
$1,335,000
5 bed • 2 bath • 2 car
101 Sizer St, EVERTON PARK
$560,000
2 bed • 1 bath • 1 car
$737,500
3 bed • 1 bath • 2 car
$1,544,200
5 bed • 3 bath • 2 car
$1,100,000
4 bed • 2 bath • 2 car
37b Beth Eden Tc, ASHGROVE
$580,000
3 bed • 2 bath • 2 car
$725,000
4 bed • 1 bath • 2 car
$990,000
6 bed • 2 bath • 2 car
75 Buckingham St, ASHGROVE
$910,000
3 bed • 1 bath • 1 car
3/168 Waterworks Rd, ASHGROVE
$333,500
2 bed • 1 bath • 1 car
25 Browns Dip Rd, ENOGGERA
850000
5 bed • 2 bath • 2 car
$585,000
5 bed • 1 bath • 1 car
$332,500
2 bed • 1 bath • 1 car
$1,170,000
4 bed • 2 bath • 2 car
6/26 Dalmore St, ASHGROVE
$402,500
2 bed • 2 bath • 1 car
312 Harcourt St, TENERIFFE
51 Holmesbrook St, ASHGROVE
$1,215,000
3 bed • 3 bath • 2 car
$362,500
2 bed • 1 bath • 1 car
$349,000
2 bed • 1 bath • 2 car
$1,155,000
3 bed • 2 bath • 4 car
$615,000
3 bed • 1 bath • 2 car
$855,000
3 bed • 1 bath • 1 car
$850,000
3 bed • 1 bath • 2 car
$340,000
2 bed • 1 bath • 1 car
$440,000
2 bed • 2 bath • 1 car
$330,000
2 bed • 1 bath • 1 car
13/39 Mt Nebo Rd, THE GAP
38/147-153 Lambert St, KANGAROO POINT
$450,000
2 bed • 2 bath • 2 car
9 St Vincent St, ASHGROVE
$1,575,000
4 bed • 2 bath • 2 car
15 Claremont St, RED HILL
9/104 Musgrave Rd, RED HILL
$225,000
1 bed • 1 bath • 1 car
$715,000
4 bed • 2 bath • 2 car
$336,500
2 bed • 1 bath • 1 car
$1,625,000
4 bed • 2 bath • 2 car
1/16 Wellington Rd, RED HILL
$1,007,500
4 bed • 3 bath • 5 car
$350,000
2 bed • 1 bath • 1 car
3/9 Trackson St, ALDERLEY
$325,000
2 bed • 1 bath • 1 car
$1,400,000
5 bed • 2 bath • 2 car
26/60 Leitchs Rd South, ALBANY CREEK
$490,000
3 bed • 2 bath • 2 car
$603,000
3 bed • 1 bath • 2 car
$956,700
4 bed • 2 bath • 1 car
18/43 Ashgrove Av, ASHGROVE
$440,000
2 bed • 2 bath • 1 car
$310,000
2 bed • 1 bath • 1 car
$830,000
3 bed • 1 bath • 1 car
Sold
4 bed • 1 bath • 1 car
280 Waterworks Rd, ASHGROVE
$715,500
3 bed • 1 bath • 2 car
991 Waterworks Rd, THE GAP
$537,500
3 bed • 1 bath • 1 car
$575,000
4 bed • 1 bath • 2 car
$775,000
3 bed • 1 bath • 4 car
106/32 Nathan Av, ASHGROVE
$450,000
2 bed • 2 bath • 1 car
$800,000
3 bed • 2 bath • 1 car
$350,000
2 bed • 1 bath • 1 car
15 Sicklefield Rd, ENOGGERA
$562,500
4 bed • 2 bath • 2 car
$1,400,000
4 bed • 2.5 bath • 2 car
$1,135,000
4 bed • 2 bath • 2 car
$700,000
3 bed • 2 bath • 4 car
$430,000
4 bed • 1 bath • 1 car
4/15 Dunkirk St, GAYTHORNE
$269,500
2 bed • 1 bath • 1 car
14/39 Mt Nebo Rd, THE GAP
$590,000
3 bed • 2 bath • 1 car
$430,000
2 bed • 2 bath • 2 car
$450,000
2 bed • 2 bath • 2 car
$410,000
2 bed • 2 bath • 1 car
$944,000
4 bed • 2 bath • 2 car
$348,500
2 bed • 1 bath • 2 car
2/23 Quinton St, KANGAROO POINT
$220,000
1 bed • 1 bath • 1 car
$500,000
2 bed • 2 bath • 2 car
$1,200,000
5 bed • 2 bath • 2 car
$1,050,000
3 bed • 2 bath • 2 car
$720,000
4 bed • 2 bath • 2 car
$1,025,000
5 bed • 3 bath • 2 car
$980,000
4 bed • 3 bath • 1 car
158 Waterworks Rd, ASHGROVE
$550,000
3 bed • 2 bath • 1 car
$835,000
3 bed • 1 bath • 1 car
17 Sicklefield Rd, ENOGGERA
$453,750
4 bed • 2 bath • 3 car
$1,080,000
4 bed • 3 bath • 2 car
$900,000
3 bed • 1 bath • 1 car
$352,000
2 bed • 1 bath • 1 car
$735,000
3 bed • 1 bath • 1 car
3/39 Beth Eden Tc, ASHGROVE
$529,250
3 bed • 2 bath • 1 car
368 Webster Rd, STAFFORD HEIGHTS
$437,500
4 bed • 2 bath • 4 car
$630,000
3 bed • 1 bath • 2 car
$525,000
4 bed • 2 bath • 3 car
$485,000
3 bed • 2 bath • 1 car
$365,000
2 bed • 2 bath • 1 car
$662,000
4 bed • 1 bath • 3 car
76 Spence Rd, WAVELL HEIGHTS
$610,000
3 bed • 1 bath • 2 car
6/5 Whytecliffe St, ALBION
$332,500
2 bed • 2 bath • 1 car
$884,214
5 bed • 3 bath • 2 car
$800,000
4 bed • 3 bath • 2 car
1/14 Balmain Tc, RED HILL
$600,000
3 bed • 2 bath • 1 car
$442,500
2 bed • 2 bath • 2 car
208/22 Nathan Av, ASHGROVE
$477,250
2 bed • 2 bath • 1 car
24 Bunowen St, FERNY GROVE
$487,500
4 bed • 1 bath • 1 car
3/5 Whytecliffe St, ALBION
$350,000
2 bed • 2 bath • 1 car
$735,000
4 bed • 3 bath • 2 car
5 Ferneydell St, ASHGROVE
$790,000
4 bed • 2 bath • 1 car
$865,000
5 bed • 2 bath • 2 car
34 Barrabooka Dr, THE GAP
$600,000
3 bed • 2 bath • 2 car
$840,000
4 bed • 2 bath • 2 car
$388,000
2 bed • 2 bath • 1 car
$840,000
3 bed • 1 bath • 2 car
$305,000
2 bed • 2 bath • 1 car
$450,000
2 bed • 2 bath • 1 car
13/19 Nitawill St, EVERTON PARK
$280,000
2 bed • 1 bath • 1 car
$419,000
2 bed • 2 bath • 1 car
31/14 Paltarra St, THE GAP
$500,000
2 bed • 2 bath • 2 car
55/1060 Waterworks Rd, THE GAP
$535,000
3 bed • 3 bath • 2 car
$885,000
5 bed • 3 bath • 2 car
49 Holmesbrook St, ASHGROVE
$965,000
3 bed • 1 bath • 1 car
$635,000
4 bed • 1 bath • 2 car
$1,259,000
4 bed • 3 bath • 2 car
35 Willandra St, ENOGGERA
$570,000
2 bed • 1 bath • 1 car
$356,500
2 bed • 2 bath • 2 car
$499,500
3 bed • 1 bath • 1 car
$655,000
4 bed • 3 bath • 2 car
$585,000
3 bed • 1 bath • 2 car
$215,000
1 bed • 1 bath • 1 car
$592,500
4 bed • 3 bath • 2 car
$1,070,000
4 bed • 3 bath • 2 car
$610,000
3 bed • 2 bath • 2 car