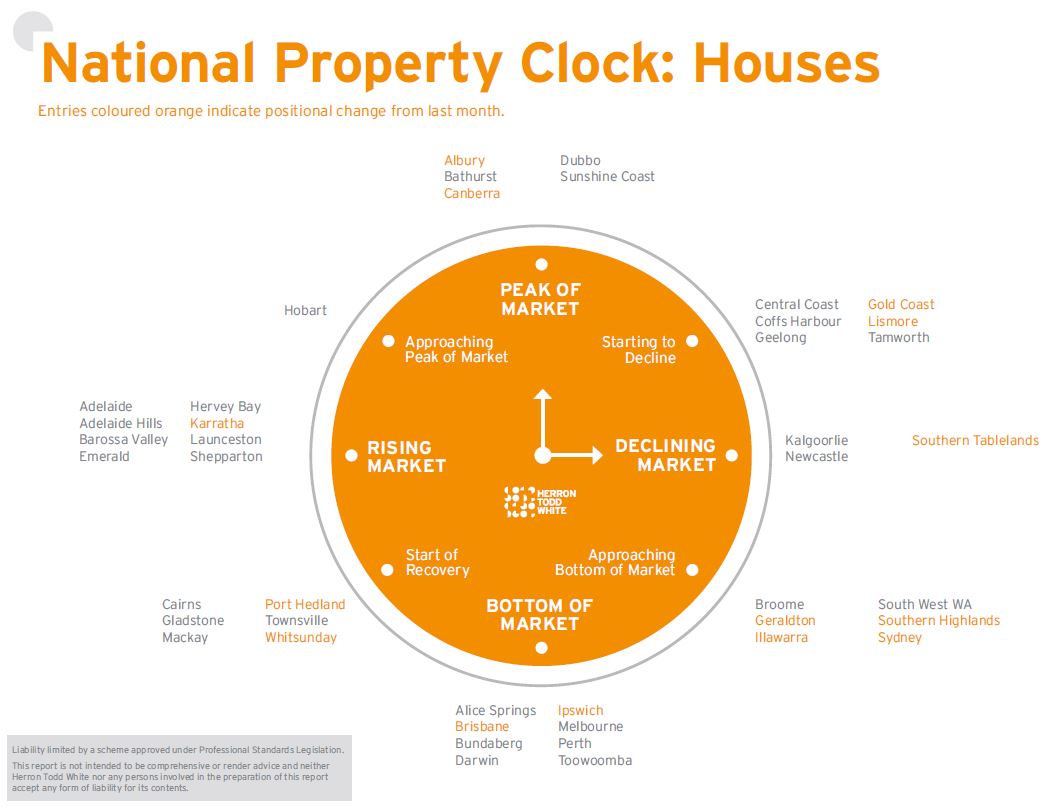 July Property Clock
Where does Brisbane currently sit in the cycle?
Houses = Bottom of Market
Units = Bottom of Market
Half a million dollars in Brisbane's property market right now enables you to buy a decent property, but with it slightly below our capital city median, which is just shy of $600,000, it doesn't buy you as much as it did a few years back. Our market has been attracting new residents from Australia's more expensive capitals in increasing numbers. We have so much to offer and $500,000 provides reasonable options for anyone who wants to take part in buying a slice of sunny Brisbane.
A great example of what you can jag at $500,000 in Brisbane includes Keperra on the northside. In this suburb, lowset post war homes that are a little dated on the inside will fall just shy of $500,000 with something a little more polished being in the early to mid-$500,000s. Other options can be limited. Inner-city areas such as Paddington, Ashgrove and Alderley don't even have vacant 405 square metre lots below $500,000, while entry level at The Gap is in the mid-$500,000s – and that's for something requiring a bit of work.
You might ask, is this wise to purchase at this price point in Brisbane's current market? What are your alternatives? When it comes to detached housing, sticking with fundamentals of location will always serve you well in Brisbane. When tethered to the $500,000 price point, we suggest that staying as close to the CBD as possible in a well-serviced suburb would be a safe bet. A circa 2000 low-set, brick, three-bedroom, one-bathroom house generally can provide excellent capital growth prospects.
You can also compromise on the age and condition of the home to keep the price down. Perhaps a highset post-war that needs some love would be a great under-$500,000 buy. After a bit of work, it's likely to exceed the half-million mark in value. If cash flow was a priority, then a townhouse would have a higher rental return, however value is more likely to remain flat or go backwards. While most buyers at this mark will be local owner-occupiers, with many being first home buyers, there's still plenty to attract investors. Those who pay circa $500,000 should expect rent between $400 and $450 per week for a detached house, while a townhouse can achieve $450 to $500 per week.
If you can find an elusive bargain in an area such as Enoggera or Mitchelton for $500,000 you're doing well – they are becoming rarer, but still pop up from time to time. Good investment locations include suburbs that offer easy access to highways and are close to major shopping outlets. You really must think about compromises if you want to go much cheaper – such as living on a main road or thoroughfare or other secondary location.
All-in-all though, because this price point is in the lower half of the Brisbane house value spectrum, the potential for gains is good. When markets rise, it's often the cheaper properties that are dragged up first.
There are bargains to be had with units too, but as a general observation, take a cautious approach. Older conventional brick walk-up units in six or eight- pack style complexes can be purchased in the inner city for under $400,000, but don't expect runaway value growth any time soon.
Looking at the overall market, it has been relatively subdued. Dwelling values have shifted very slightly in a positive direction, whilst established units have probably decreased somewhat. It's Brisbane after all, so stay conservative and stick with your long-term property approach and you will do well.
Would you like to know where your property sits in the market? Send me a message HERE, let me know where your home is and I will send you through some information.
The above information has been sourced from Herron Todd White's Month in Review Property Report. To read more of the report CLICK HERE.