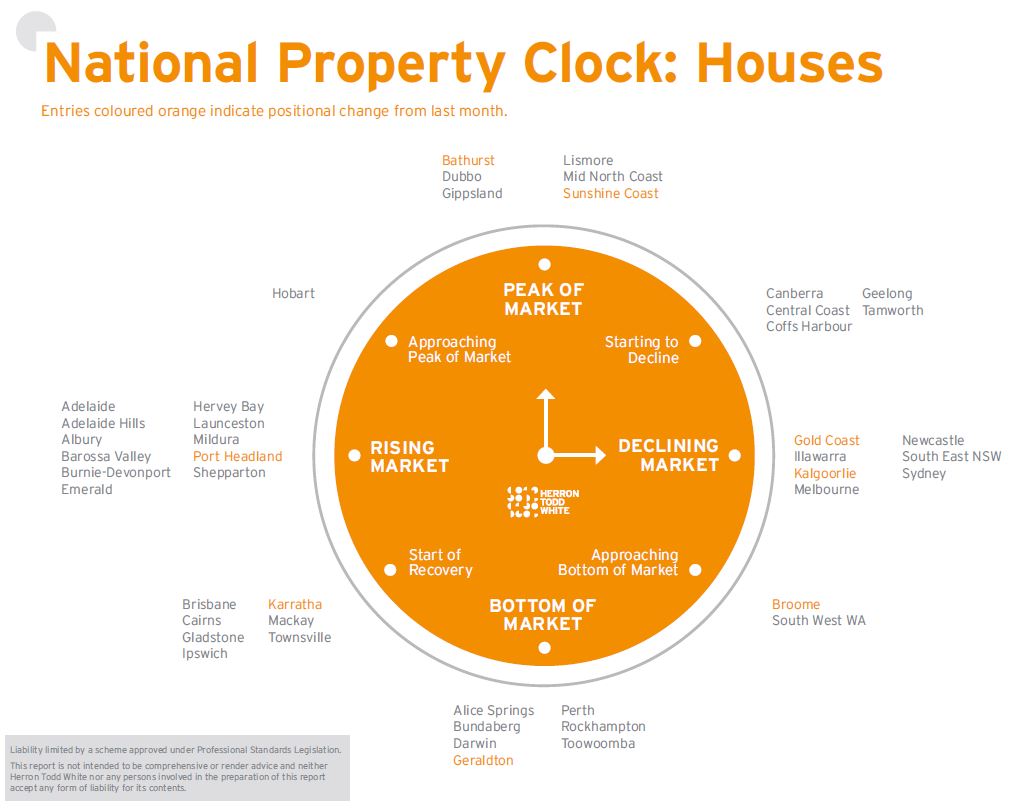 June Property Clock
Where does Brisbane currently sit in the cycle?
Houses = Start of Recovery (no change)
Units = Bottom of Market
Brisbane has started off the year far less dramatic than Sydney and Melbourne as far as property markets go in 2019. We are due for a property rise, but the first half of this year has been more conservative than progressive.
The consensus among valuers is that Brisbane has been a steady performer across the board. There was some minor price softening in our markets, but not enough to give owners the jitters. Compared with other larger property markets around Australia, Brisbane has been a shining performer.
While many of our metrics have looked promising for growth at the start of this year, forces pulled in the other direction too. We are affordable in comparison to southern capitals –so the draw for borderless investors and lifestyle nomads is strong. You only need to check out Queensland's rising net interstate migration numbers to appreciate what's going on. Another plus is infrastructure projects, both underway and planned, that are set to boost our employment prospects while also improving lifestyle for residents.
That said, the tough lending environment played its part. Top this with a good dose of federal election market paralysis, and you might see why Brisbane – even with all its positives – still couldn't break free and run hard. Of course, with the election over and APRA starting to relax borrowing guidelines, it could be brighter times in the months to year's end.
The credit crunch noticeably hit the sub-$2 million market the hardest. While there were still enough buyers with the desire to purchase in this bracket, their aspirations were slowed by loan rejections. The result has seen properties sitting on the market for longer than in previous years and, in some instances, asking prices are being reduced slightly to achieve a sale. Another interesting occurrence which reflected on tough finance has been changes to sale conditions. This manifested in the rise of finance clauses that were regularly running at 21 to 30 days. This is fairly lengthy when compared to previous years where 7 to 14 days finance was all that was needed.
One of the bright sparks in our market was property priced above $3 million. It seems that many of these purchasers were immune to finance, politics and other economic bad news – sales are still performing well across many suburbs.
Looking at property types and our market continued to tread cautiously in relation to high-rise units – particularly investor stock. It's true that the oversupply fears have eased somewhat. Prescient developers who, a few years back, could see problems looming, decided to mothball projects, sell off sites or reconfigure stock. That said, there is still a good supply of available apartments in Brisbane and there's also limited to no demand from foreign, local or interstate investors for this stuff. As such, the value softening continued.
Owner-occupier boutique product completed to a high standard was, on the other hand, holding up pretty well, although development sale rates would be considered historically low. If you were purchasing a unit at the start of 2019, hopefully it was one that would appeal as much to owners as it would to investors.
The first half of this year has also seen rentals start to bounce back and increase slightly and gradually. This will be a relief for landlords who were trying to sit tight and stay calm during tougher lending times.
Finally, the past six months in new house and land, particularly in large outer suburban estates, slowed in terms of sale rates.
Te election result surprised us the most and seems to have caught many off guard. We know a few in the industry were resigned to the idea that a new government would bring tax changes to the property sphere. In fact, the feeling is pent up demand for investing in real estate will be released as we travel through to the end of the year. Lets see what the rest of the year brings, hopefully on the up.
Would you like to know where your property sits in the market? Send me a message HERE, let me know where your home is and I will send you through some information.
The above information has been sourced from Herron Todd White's Month in Review Property Report. To read more of the report CLICK HERE.