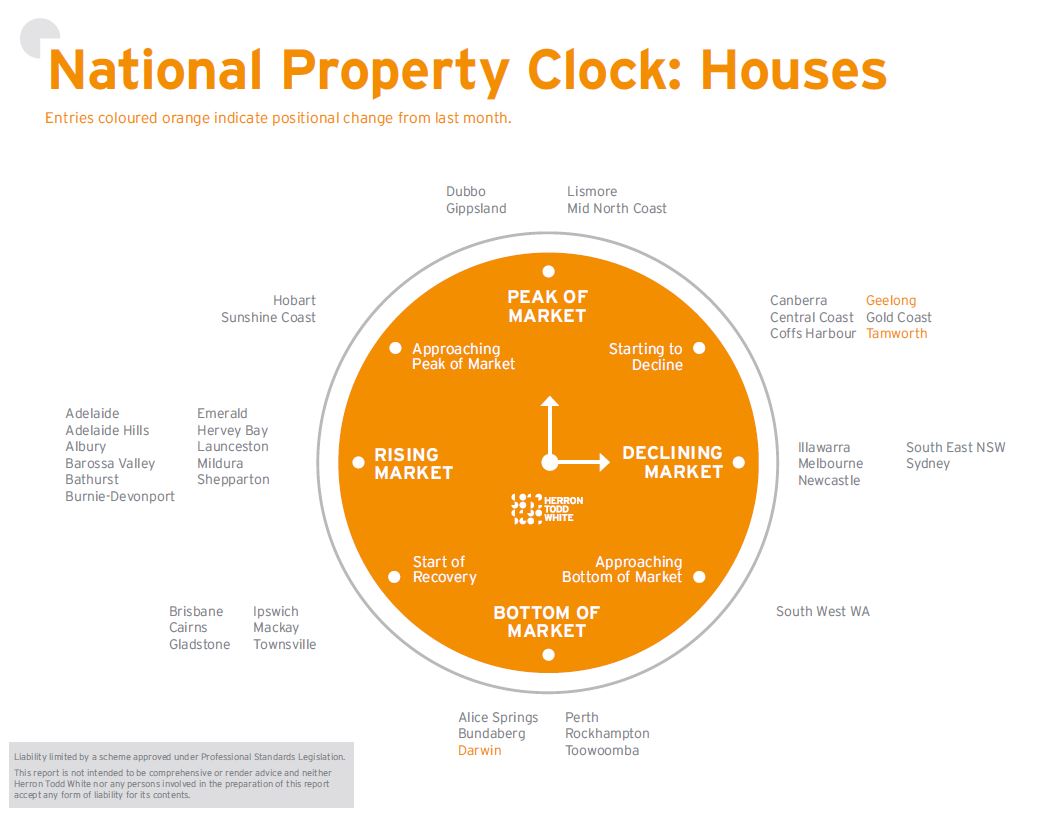 May Property Clock
Where does Brisbane currently sit in the cycle?
Houses = Start of Recovery (no change)
Units = Approaching Bottom of Market (no change)
Brisbane can definitely boast about its abundance of land available within a reasonable commutable distance of our CBD. This great supply alongside affordable pricing is one of the primary drivers for interstate migration to sunny Queensland.
Yes, there's plenty of dirt providing a blank canvas for your dream build, but is it wise to take on a construction project when there's plenty of established housing already on offer at reasonable prices?
While your own circumstances will dictate what's best in terms of property purchases, here's a locational guide on land + build throughout the Brisbane region.
Not surprisingly, vacant land in inner city addresses is relatively expensive due to limited supply and higher demand compared to outer suburbs, and many buyers seem keen to create a twist when it comes to vacant land too, with splitter blocks being all the rage.
The price of vacant allotments is beginning to soften after a value peak around mid-2018. Properties that can be split are limited to a small number of allotments which most local agents know about. As such, they achieve a premium in this very competitive area.
In the inner to mid city ring you can usually get vacant lots or demolishable houses from $450,000 up to $750,000, again even more if you are closer to the city and even sprout city views. Construction costs for owner occupied homes sit around the $2500 per square meter, investor grade products generally sit around the $1400 per square meter mark
Out in the west towards Ipswich, the estates are usually investor-grade products with allotments as low as $170,000 for vacant land. Construction costs are around $1200 per square meter. In these areas it is becoming increasingly difficult to support the cost of land & construction as identical second hand property are usually selling $30,000 to $40,000 cheaper and have larger lot sizes.
Heading north, vacant land sales differ significantly depending on which estate you are part of. Land prices start at the $170,000 mark in some estates and in others reach $300,000 as a starting price. Construction costs are similar to that in the west around the $1200 per square meter mark for investor grade products and reaching $1800 per square meter for owner occupied homes. Many buyers again are taking advantage of the opportunity to purchase second-hand dwellings as they are cheaper then new builds.
So, if you are looking to buy land and build, consider what you can afford and the lifestyle you are looking for. Whether you are purchasing to live in yourself or to rent out as an investment property, do your research and try to stick to areas where there are plenty of owner occupiers in the suburb. Suburbs with greater owner occupier appeal generally tend to go better on the growth scale.
Would you like to know where your property sits in the market? Send me a message HERE, let me know where your home is and I will send you through some information.
The above information has been sourced from Herron Todd White's Month in Review Property Report. To read more of the report CLICK HERE.