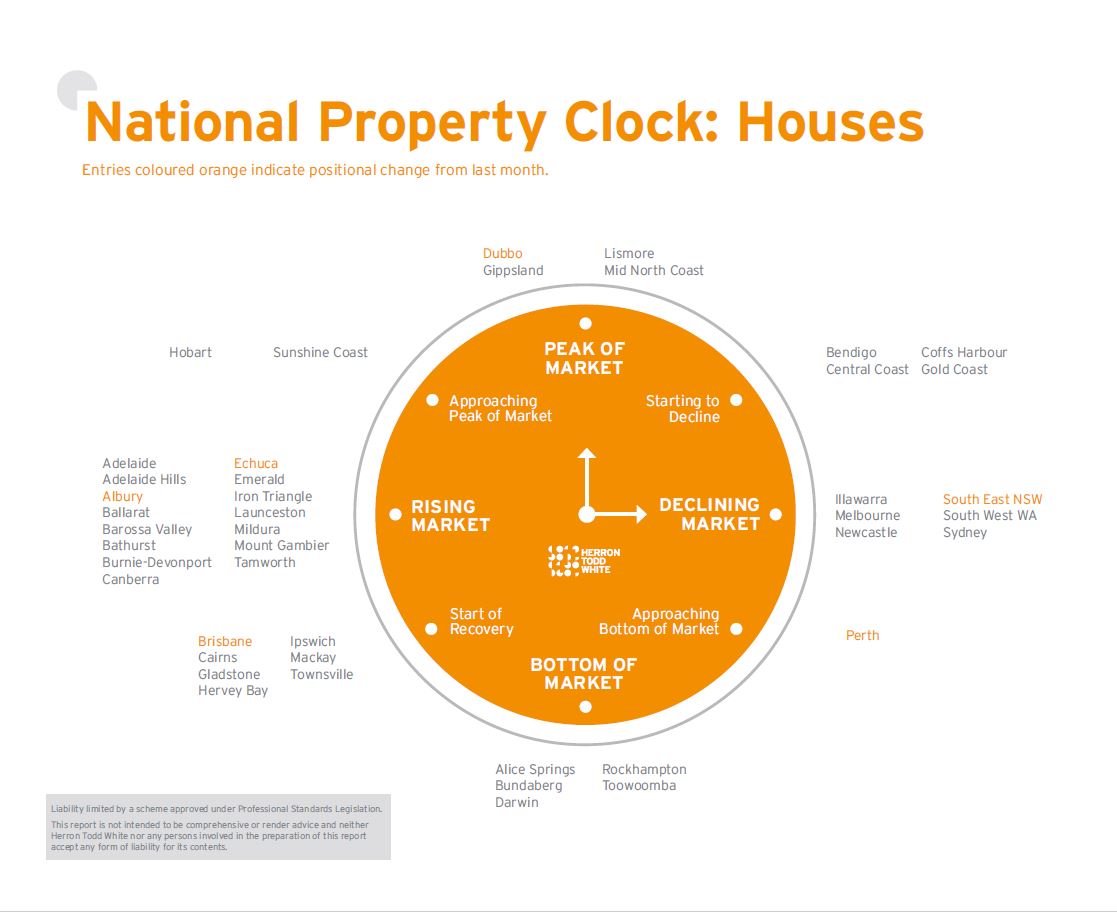 March Property Clock
Where does Brisbane currently sit in the cycle?
Houses = Start of Recovery (change from last month)
Units = Approaching Bottom of Market (no change)
Brisbane offers some of the best opportunities for investment in the country with its easy-going lifestyle, new infrastructure spending, ready coastal access and promising long-term employment outlook to name a few. But, at the top of the list is affordable real estate.
The affordability wave of southern buyers has been threatening to hit us in force since the start of this decade but has never really delivered. It is however now here and is slowly rising.
Brisbane's current median house and unit price is approximately $550,000 and $380,000 respectively, according to CoreLogic. If you are currently looking to make a purchase, here is where you should be looking.
North of our city you will hit the mid-ring locations at the median price which includes Chermside, Nundah, Kedron and Stafford Heights where original-condition, post-war homes through to 1980s era dwellings provide entry level buying. On the unit front, modern apartments, circa 2010 or later offering two-bedroom, two-bathroom, single-car accommodation can be found within the $380,000 to $400,000 figure. Again, transport and essential services nearby are paramount so finding tenants for this style of accommodation shouldn't be difficult if appropriately priced.
Looking south and again, mid-ring is your friend with Holland Park, Annerley, Carina, and Carina Heights. In a mirror of the north, it's the original condition post-war homes through to the 1980s-constructed properties that will fit the bill. Again, modern style apartments in the south are the go within these mid-ring positions. Look for two-bedders with two bathrooms, particularly if you're an investor hoping to jag tenants.
If you have your heart set on finding something a bit more contemporary with little renovations required, then apply the long-established rules of property economics. The further out from the CBD you travel, the bigger the block and better the quality you can buy for your buck.
The older detached homes in the middle ring are still going to be the best prospects for investment if you can afford it. History shows their potential for capital gain is greater. Also, if you are in the right position, there are plenty of tenants willing and able to take up a rental on your investment.
Would you like to know where your property sits in the market? Send me a message HERE, let me know where your home is and I will send you through some information.
The above information has been sourced from Herron Todd White's Month in Review Property Report. To read more of the report CLICK HERE.