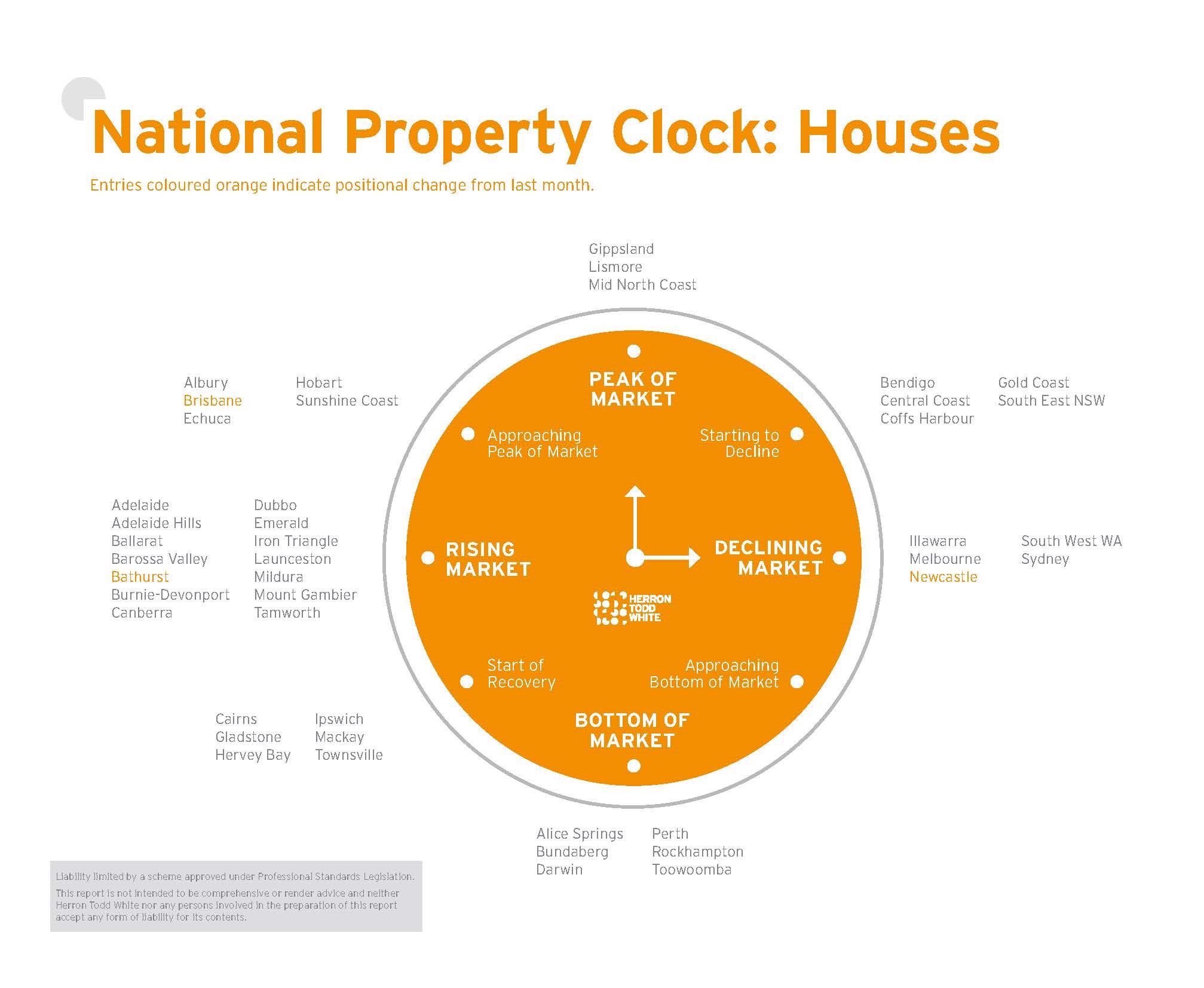 February Property Clock
Where does Brisbane currently sit in the cycle?
Houses = Approaching Peak of Market
Units = Approaching Bottom of Market (no change)
As if the weather weren't reason enough to love Brisbane! Brisbane in 2019 looks set to offer a little more to its property buyers. Brisbane in the coming twelve months will, generally speaking, see a stable market across most locations. It isn't historically prone to big price movements in either direction, it does tend to take a more laid-back approach. It has been on the cusp of substantial price rises for about six years now. While there are plenty punting on the idea that 2019 will bring big gains, experts prefer to think our real estate values will strengthen in a more measured way.
Like most other markets around the nation, Brisbane was affected by macro financial changes instigated by Australian regulators that resulted in constrained credit availability. Buyers were keen but if they couldn't lock down a loan approval, what was the point? Investors in particular were also hard hit. This group was dealing with restriction to interest-only lending as well as tougher rules from the banks. All in all, many decided it was all a bit too hard and got out of the way. Conversely, there were plenty of first home buyers willing to take up some of the slack with participation in this cohort on the rise.
This is the platform upon which 2019 has launched itself and while noises are coming out of the halls of power suggesting credit policy needs to be loosened, it might take some time to bring the confidence back. Brisbane is heading into a period of strong investment in infrastructure that only bodes well for our river city. It feels like it's been a long time coming. Apart from the obvious benefits of boosting our liveability, infrastructure drives employment and that's an area sorely in need of improvement in Queensland. In addition, some of these major projects will have national and international appeal – the Howard Smith Wharves project and the Queens Wharf complex in particular – which have a flow on for boosting our tourism and services sector. Also, our city's comparatively affordable real estate is a draw card. Brisbane is the third largest capital and has the joys of brilliant coastline, hinterland and rural lifestyle on our doorstep. To many from the south, our housing must look incredibly cheap.
Brisbane's net interstate migration numbers have also shot up over the past two years. It looks to have set into a positive trend and is a key leading indicator of property price growth. Add to this the ongoing low interest rate environment. Getting the banks to say "yes" has been a bit tougher, but if you do have a loan approval, the decent yields achieved through real estate investment in Brisbane will offset much of your ongoing borrowing costs.
If you are looking to buy, shoot for some of the inner and mid-ring addresses. This is solid real estate where our population likes to live and play. For example, this would include Enoggera out to Stafford in the north and Annerley through to Moorooka in the south. Seek out specific property elements that can boost your chances of growth. Look for renovatable homes on decent size blocks, or larger allotments with good, long-term redevelopment potential. Entry level priced property in these locations is another way to better your chance of gains. Buying below the median price provides room to grow in the value stakes. Also, if you have the opportunity to jag vacant land, or better yet, do a small subdivision, then there is upside for you. Flexibility in these well-populated locations pays dividends for property.
If you're thinking of places to avoid, you might want to move with caution in outer lying locations along our northern and western corridors in estates that are being pitched towards investors rather than homeowners. If there's a predominance of dual occupancy and duplex structures or generic townhouse designs on offer, tread warily if your goal is capital gains. Credit restrictions have not helped the demand side of the equation in this sector either and with plenty of supply on hand, the result seems to be subdued growth if any for this real estate.
While the well-documented oversupply of apartments, particularly in inner city suburbs, has continued to dominate commentary, it is to be noted that there has been a turnaround in fortunes. Those apartments pitched primarily at homeowners have done well of late and much of the supply expected to come through the pipeline has slowed.
2019 will be a year to watch in Brisbane. If it can accentuate the positive and eliminate the negatives, then property owners should do fine by annum's end.
Would you like to know where your property sits in the market? Send me a message HERE, let me know where your home is and I will send you through some information.
The above information has been sourced from Herron Todd White's Month in Review Property Report. To read more of the report CLICK HERE.