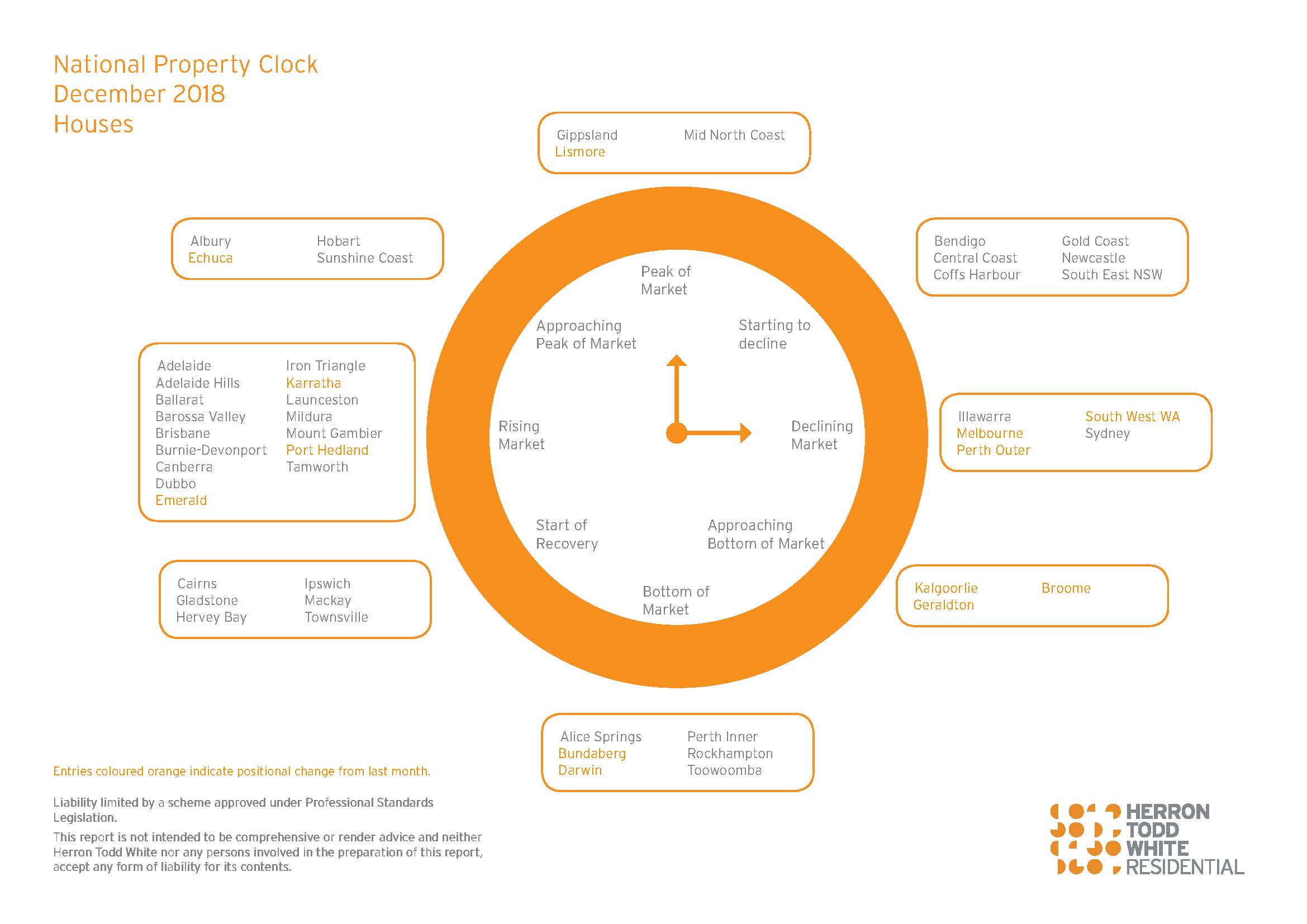 December Property Clock
Where does Brisbane currently sit in the cycle?
Houses = Rising Market (no change)
Units = Approaching Bottom of Market (no change)
With the year almost over, it is a good time to reflect on what was 2018. Brisbane has had a great year, although unexciting and safe overall, it is considered a modest but positive performer when it comes to capital growth.
Our interstate migrations numbers continued to improve as our southern relatives crossed the border for a sunny lifestyle change. With major infrastructure projects announced this year, we hope next year will bring more migration as job prospects soar. Queens Wharf has started, Howard Smith Wharves have opened and a number of transport initiatives are in the process.
Across the market in general, the inner-city and near city addresses have been tightly held. The upgrading market for homeowners has been extremely positive, especially in locations which suit growing families. Renovated homes have also done well and demand for homes needing a little TLC has increased as younger couples try their hand at building the great Australian Dream. Higher quality apartment blocks have performed surprisingly well, with the softening apartment market appearing to have bottomed out, or close to. 2019 should be filled with upside potential.
No one could predict the effects of the Banking Royal Commission, however we have been very lucky in Brisbane to not feel the impact as much as other markets around Australia. What it has showed is that we are now starting to see a shift where contracts are reverting to 14 & 21 day finance clauses – just taking a little longer to get the finance paperwork through.
We are excited for 2019 and what the market will bring.
Would you like to know where your property sits in the market? Send me a message HERE, let me know where your home is and I will send you through some information.
The above information has been sourced from Herron Todd White's Month in Review Property Report. To read more of the report CLICK HERE.