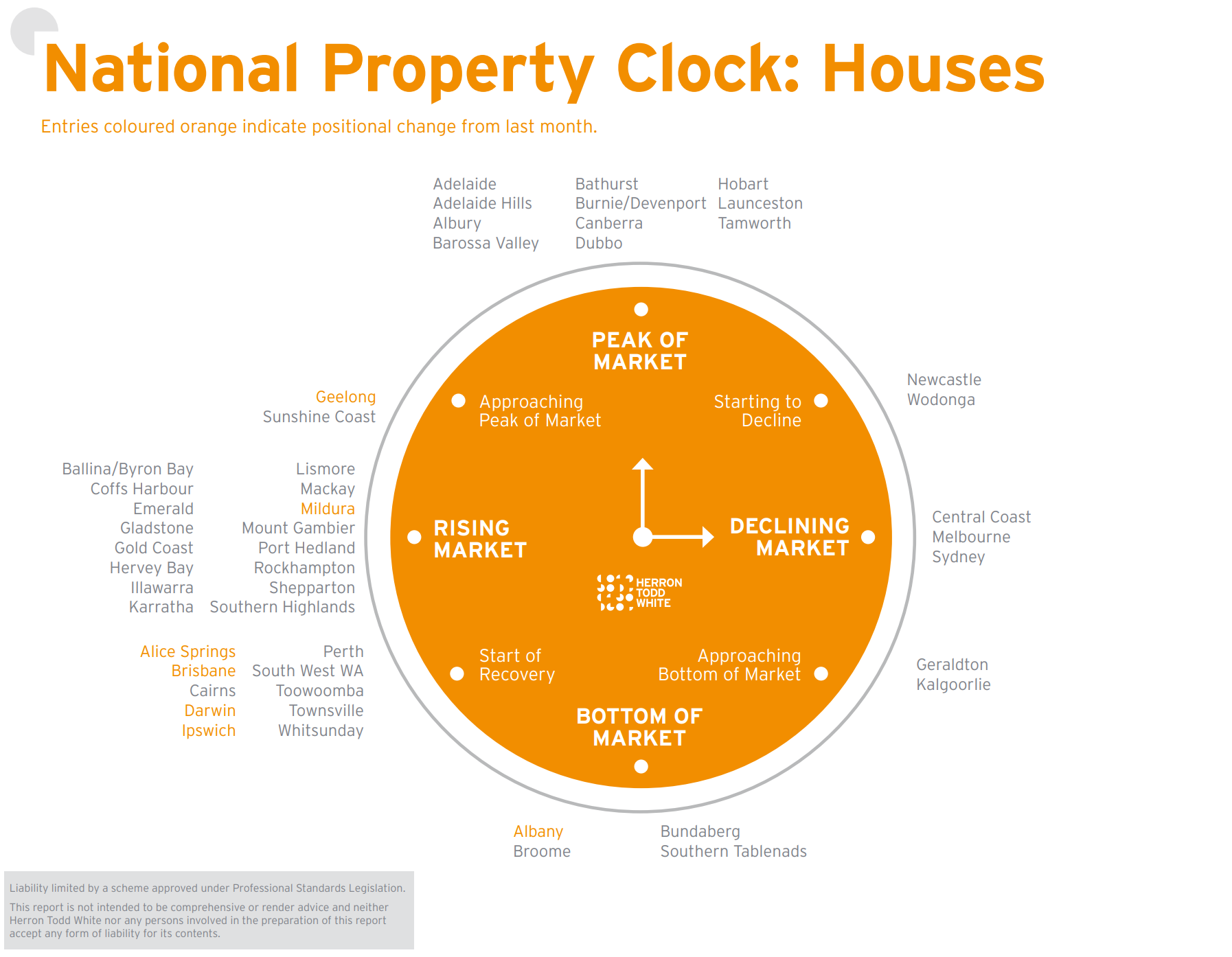 October Property Clock
Where does Brisbane currently sit in the cycle?
Houses = Start of Recovery (moved from Declining Market)
Units = Start of Recovery (moved from Declining Market)
Our mix of capital city cool, relative low density (compared to Sydney) and community freedoms due to little COVID transmission are working together to make Brisbane look like a pretty attractive option for investors and new residents.
A survey of 1000 investors by industry group, Property Investment Professionals of Australia, published in September showed 36 per cent believed Brisbane was the best capital-city investment prospect for the coming year.
While the pandemic is stopping new Queenslanders from crossing the border and is causing immense pain to industries such as tourism and hospitality, there's a general expectation that we will fare nicely once we get to the other side of the pandemic.
In further confidence-boosting news, analysis published by CoreLogic in September showed Brisbane's capital city home values are up 1.3 per cent on the year to date and 3.8 per cent across the past 12 months. These are heartening results given the fear felt at the beginning of 2020.
So, on the back of this, how are our vacant land and new-build markets performing? The overriding observation is that a combination of factors is bolstering this sector.
Confidence, as described above, is a big deal among potential purchasers and it's beginning to swell. While most property buyers understand the wisdom of holding for the long term to maximise capital gains, very few want to see their asset's value fall straight after the contract's ink is dry. There's less fear of this happening in and around Brisbane at present, so purchasers are eager to act.
Interstate migration is also helping boost sales. We were tracking very nicely in this department up to the end of 2019. Of course, that number has plummeted since the boom gate came down on our hard borders, but selling agents are reporting a rise in enquiry from out-of-towners. There's a sense of anticipation that we'll see some serious improvement in interstate arrivals once folk can cross state lines more freely. After all, we offer a great lifestyle and working remotely is no longer a pipe dream for many Australians.
Another plus is low interest rates. Money has never been cheaper and for those with the ability to access it, the opportunity is obvious. The key here is being able to get a loan. Lenders are perhaps a little more relaxed about lending criteria than they were in the immediate aftermath of the Royal Commission, but they are still careful about what risks they take on.
Another big driver for the land, new-build and renovation sectors in particular are government incentives and stimulus. Despite the fact that when first announced, HomeBuilder was pilloried for being too restrictive in its criteria, we are seeing plenty of mortgage security valuations coming through the door on the back of buyers looking to utilise the scheme. If you combine that with first home buyer incentives and stamp duty reductions on offer in Queensland, there's opportunity for those looking to step into the market early, particularly if their savings towards a deposit were a little light.
Finally, Brisbane and its surrounds offers a relatively inexpensive option for buyers – and that's a key incentive at present. People are being very cautious with their money in the shadow of COVID. Brisbane provides buyers with the chance to own a new home within easy reach of a major CBD at substantially less than it would cost in Sydney or Melbourne.
So, onto the specifics of land and construction. Our valuers confirm that strong demand and increased sales rates are evident in estates throughout Brisbane's growth corridors, with reports from developers of record sale numbers and stages selling out in a mere matter of weeks. Many Brisbane region developers are reportedly finding it difficult to keep up with stock levels due to high demand. Accordingly and contrary to some early 2020 predictions, prices have gradually increased.
The same can be said for infill subdivisions and one- or two-off vacant blocks in established suburbs. That's flowed through to small development sites too where splitter opportunities with underlying subdivision potential are in hot demand.
Increased demand for fringe and outer suburban allotments is definitely a function of affordability. For those vacant sites in established suburbs, the lack of supply is helping prop prices up.
Focusing on the construction industry and we are seeing a ramp up in activity for builders. The market is being driven by confidence with low interest rates/cheap money, builder incentives, first home buyers grant and builder stimulus all playing their part.
Reproduction Hampton style homes are still very popular with the general market but modern contemporary rendered brick and imitation weatherboard dwellings are also in demand.
Another factor worth noting is that, depending on the location, builder and plans, the end value of house-and-land projects are stacking up to contract price more often than in the past. This is particularly true of inner and middle-ring suburbs due to high demand and limited supply.
As to whether this state of affairs will continue into the medium and long term is entirely dependent on an extension to the builder's grant, interest rate fluctuations and also availability of stock (land).
If these variables remain sound, then demand will remain strong.
Would you like to know where your property sits in the market? Send me a message HERE, let me know where your home is and I will send you through some information.
The above information has been sourced from Herron Todd White's Month in Review Property Report. To read more of the report CLICK HERE.