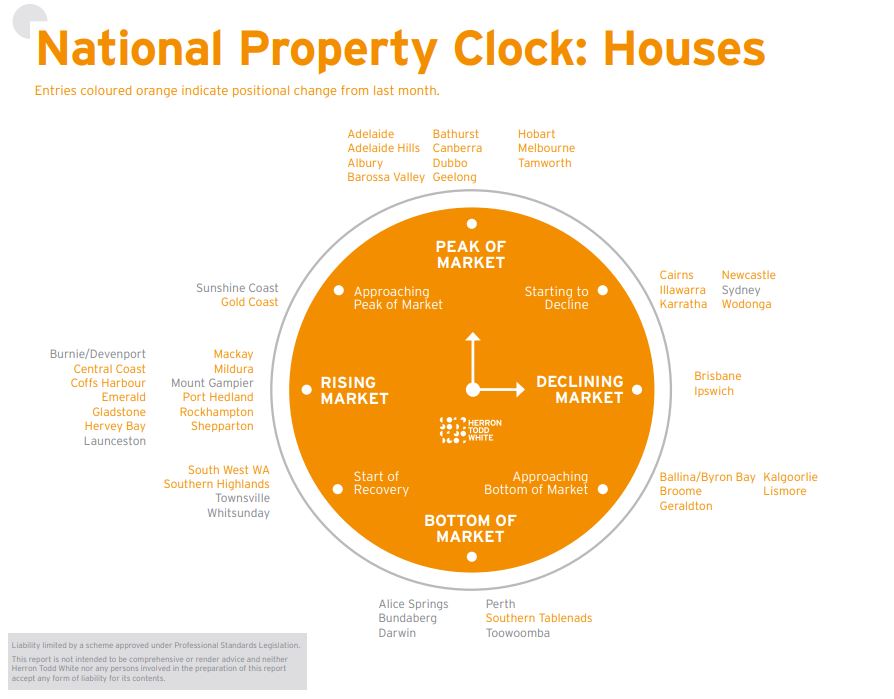 July Property Clock
Where does Brisbane currently sit in the cycle?
Houses = Declining Market (changed from Rising Market)
Units = Declining Market
With restrictions easing on 15 May, Queensland saw relaxations for the real estate industry.
In-house auctions can now be conducted with ten members of the public present and a maximum of three agency representatives running the auction. Open home inspections can be carried out with a maximum of ten people allowed access. Names, addresses and mobile numbers must be taken by agency staff of any attendees for contact tracing purposes too.
The easing of restrictions has seen an increase in listings and more activity at open homes. We have, however, yet to see evidence of changing transaction volumes or price movements. That said, it is worth noting that Brisbane's economy remains well placed for the future given the state's low infection rate and slow-but-steady opening of businesses.
We note with some interest that subject to there being no second wave of infection, analysts remain optimistic of Brisbane's property market remaining stable and likely for long-term recovery from this point on.
So, how should you spend that lazy $700,000?
The market is seeing activity from owner-occupiers, investors, upgraders, families and some first homeowners. So, pretty much every buyer type is represented in some form. $700,000 will get you within reasonable proximity of the CBD.
For example, the desirable northern suburbs of Hendra, Wooloowin and Clayfield all have entry-level pre- and post-war dwellings on 405 square metres in secondary locations within this price point. If you want to be within these desirable addresses and need something a bit newer, consider a new or near-new townhouse with three-to-four bedroom, two-bathroom, two-car accommodation.
In locations such as Gordon Park, Stafford and Kedron, a detached dwelling on 405 square metres would be a good option. In fact, the experts consider this a very strong market sector at present with good capital growth potential. If you have the money and are keen to invest, put these suburbs on your shortlist.
Windsor, Wilston and Newmarket are well-serviced, inner-north addresses popular with families. There are some stunning residences here, however at this price point you're likely to buy a modern townhouse that will have good value growth potential over the long term.
Heading south and the Carina and Carindale areas provide opportunity. A 1970 to 1980 high-set style dwelling with three-bedroom, one-bathroom accommodation and in good condition will be within your price range. If you need another bedroom, it's still possible to buy at $700,000, but you might need to settle for a secondary position. Other addresses south of the river and within striking distance of this price point are Coorparoo, Camp Hill and Hawthorne, but you may have to settle for something on a busy road or small lot and you're likely to find just two-bedders within the budget. Suffice it to say, you're looking for an eager seller if this is your patch and price point.
As mentioned earlier, the Coronavirus crisis has not resulted in a measurable fall in property prices across the Brisbane market generally and $700,000 is a solid value band. As such, don't expect to score a bargain due to the pandemic. A lack of listings means buyer choice is limited. In addition, many properties are trading off-market.
The advice is usually to purchase as close as possible to the CBD for your budget. And in most cases, choose detached housing over and above attached housing and units. But at $700,000, your options are limited when it comes to suburbs within a five-kilometre radius of town.
As such, choose fringe to mid-ring suburbs within close proximity to school catchments, amenities and public transport. You will also get larger housing lots for your budget in suburbs a bit further out.
Something on a circa 600 square metre allotment with an older highset dwelling to a good standard.
Gordon Park, Stafford and Kedron and their detached dwellings on 405 square metre lots are good options too. This is a buoyant part of the market at the moment and has good potential to achieve capital growth.
Also – for cash flow investors, have a look in the mid-to-fringe areas for duplex, dual occupancy or multi-unit/flat properties. These structures are still available within the dollar amount and the gross returns can be very strong.
If you have your heart set on buying an apartment, then act with caution.
New apartments in mid-ring localities as well as investment product throughout Brisbane should be viewed as medium-to-high risk even though they offer a lower price point in comparison to single unit dwellings. There's still a large supply hanging over from previous years' excess development and a softening in values is evident for off-the-plan purchases.
In short, capital growth in investor style units is highly unlikely in the short term. Instead of new, consider an older apartment with renovation potential in a good location with transport and amenities nearby.
Would you like to know where your property sits in the market? Send me a message HERE, let me know where your home is and I will send you through some information.
The above information has been sourced from Herron Todd White's Month in Review Property Report. To read more of the report CLICK HERE.