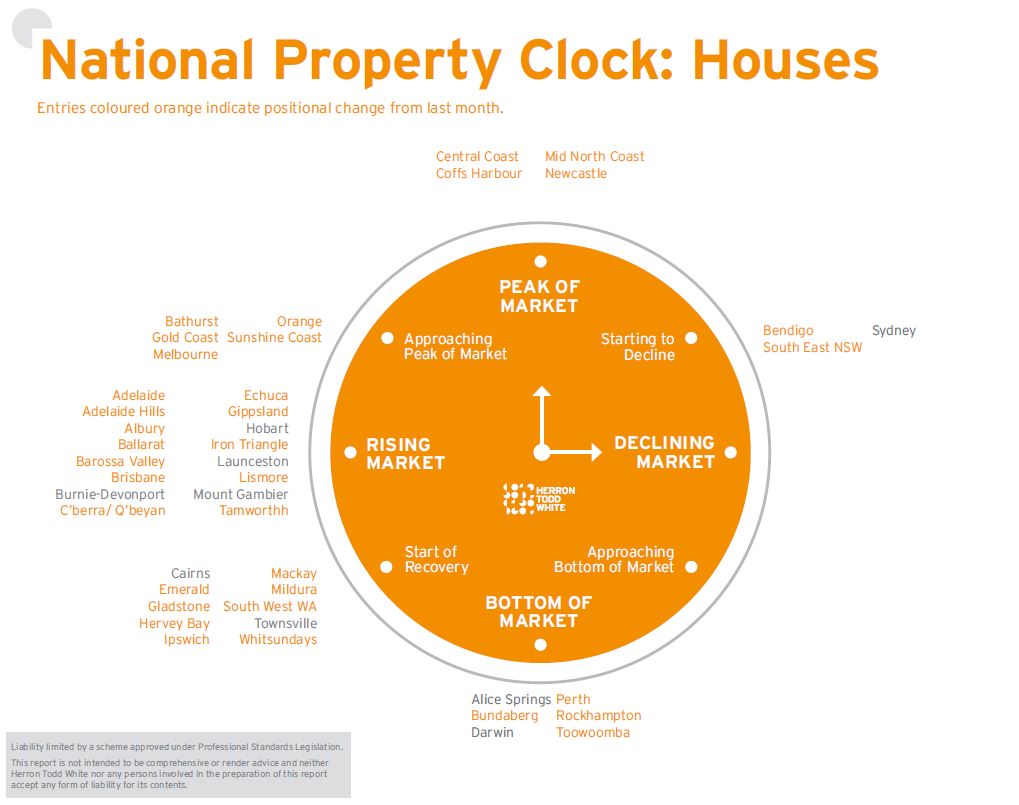 June Property Clock
Where does Brisbane currently sit in the cycle?
Houses = Rising Market (changed from Bottom of Market)
Units = Declining Market (changed from Bottom of Market)
First up – let's address the current state of play under COVID.
The initial stages of the crisis caused many sellers to shut up shop and batten down the hatches. Meanwhile, some buyers believed they were about to snatch up outrageously good deals.
The market then settled quickly into a standoff where potential purchasers came up against a lack of stock. As such, transaction numbers dropped dramatically, but prices didn't.
Now, three and half months in, the state of play is established. There is a still a wait-and-see approach being taken by owners, so buyers do not have a heap to choose from. Prices are softer across many markets, but they didn't plummet like some may have predicted.
Of course, this is an evolving situation. As we move through the machinations of the economy over the next six months - with politics, employment, finance, immigration and trade all playing their parts - this thing could be turned on their head. It's a case of wait, watch and see. Of course, the crisis has delivered us something that was in short supply for the average Aussie family – time.
Requests from leadership that we stay in and keep each other safe had many running to Netflix and home offices, but there was also a fair proportion of the population who used the opportunity to tackle odd jobs around the house.
Skip bins and Bunnings lines revealed that when presented with the chance to do nothing, many of us actually want to do something productive. That said, most of what we've seen around the suburbs was maintenance.
In Brisbane at least, demand for more extensive building and renovation work looks to have slowed.
Many households stepped through the uncertainty of March and April making plans to ensure that, over the foreseeable future, food would be on the table and a roof would stay overhead. Being frivolous with available cash could be hazardous with unemployment on the rise.
As such, we generally observed a slowdown in substantive renovation and construction projects – particularly any ventures that involved signing a contract with a builder or tradesperson.
But, as has been said many times before, you need to dig below these broad market generalisations and understand the nuances, because opportunity can be found at certain price points, property types and locations.
For example, prestige property is seeing relatively more renovation upgrades than homes in the affordable price sector.
Renos of inner-city holdings at the upper-price level have been mostly unaffected by the current environment. Owners are comparatively cashed up and willing to keep spending.
There's plenty of reasons why. For starters, the lowest interest rates in living memory are enabling those with good financial standing to get access to cheap money. In addition, the building industry has become relatively competitive under the COVID regime. Tradespeople are hungry for work and head contractors are willing to compete on price so as to secure a pipeline of projects.
The flipside in Brisbane is the investor market. We aren't seeing landlords looking to spend sums upgrading homes beyond what's necessary at this stage. There's an expectation the rental market will continue to fall in favour of tenants with rising vacancies and falling rents, so investors are wanting to ensure they don't spend too big too early.
One thing that may well stimulate the desire for upgrades among homeowners is the work-from-home phenomena.
It's become evident many of us can operate productively from a home office. It's also entirely possible on the other side of this event, employers will look for ways to reduce their office footprint, hoping to cut lease costs and improve the bottom line. The outcome may well be property owners seeking ways to adapt their current living space in order to improve their work environment. Creating a work area that can be shut off from the family space will become an essential element of any home. Even if existing owners don't look to create that for their own use, a good home office will be a feature in future real estate listings. If there's an efficient, cost-effective way to establish an office, then vendors will want to do this prior to selling.
The inner-west suburbs of Paddington, Auchenflower, Bardon and Toowong have been rife with renovation opportunities for decades. In fact, there have been a few Brisbane builders who've grown their fortunes by concentrating solely on these locations and completing beautiful, multi-million dollar do-ups.
Family friendly addresses such as The Gap: provide opportunity for those with a tighter budget. Renovatable homes are available at the high-$500,000s price point. For those with a little more to spend, an address such as Ashgrove will set you back closer to $800,000-plus for a home with potential.
A perennial favourite for fixer-uppers is Petrie Terrace and Spring Hill. There are some raw homes on tiny lots for over $600,000, but it's all about location here. These suburbs are literally walking distance to the centre of town as well as entertainment and retail precincts. And the results can be spectacular.
Looking a bit further out and Wavell Heights has good options with very basic renovators in average positions fetching between $550,000 and $600,000 – but you need to be fast as they sell quickly. Other homes in Wavell Heights that are in quieter positions with ready access to facilities are fetching between $600,000 and $700,000 for a renovation prospect. In these instances, smart renovation work will yield an end value above $1 million.
For more budget conscious renovation prospects, head a bit further up Gympie Road and check out Aspley and Bracken Ridge where a renovatable home can be purchased in the $500,000s. This area appeals to first home buyers and project-oriented builders. A quick tip – make sure you check the town planning guidelines and building codes before proceeding. The renovation options for Brisbane property can be limited by heritage and traditional-character overlays, building heights, setbacks, noise and flooding issues and other designations… and they can be property specific. Just because a neighbour is able to get certain works approved doesn't necessarily mean you can.
Finally, while the level of future renovation activity remains generally uncertain, falling sale numbers under current market conditions in the wake of COVID may well fuel a rise in renos, however this will be dependent on indicators such as general confidence in the market, affordability, unemployment and economic conditions.
Would you like to know where your property sits in the market? Send me a message HERE, let me know where your home is and I will send you through some information.
The above information has been sourced from Herron Todd White's Month in Review Property Report. To read more of the report CLICK HERE.