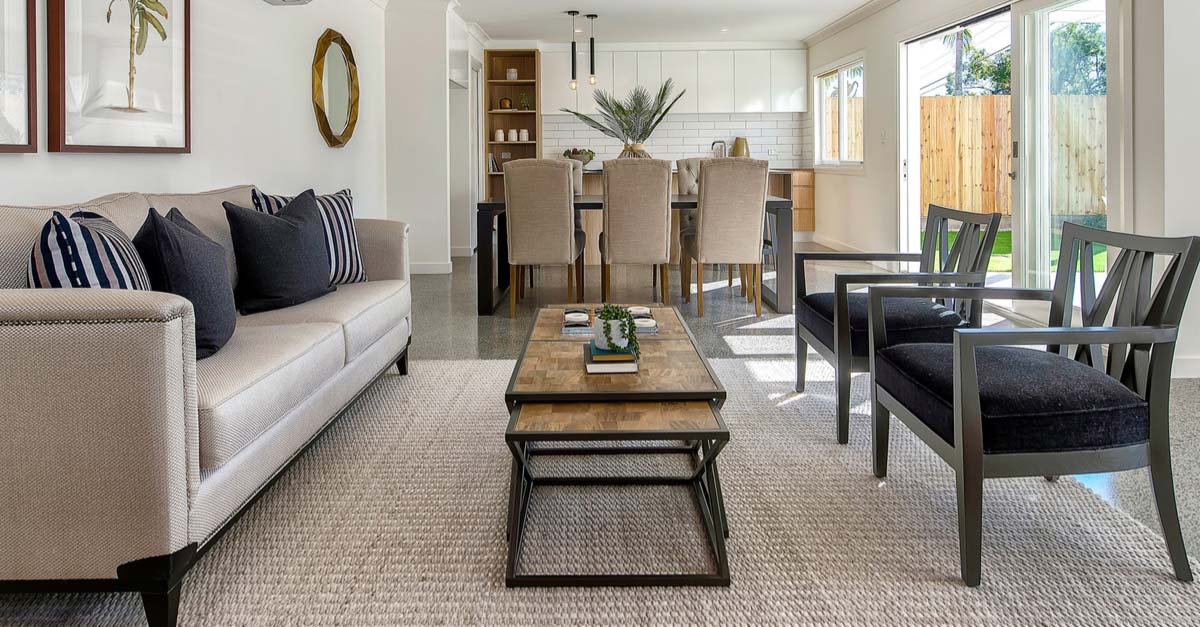 How to Create the Most Binge-Worthy Lounge Room
Style queen – and self-confessed TV addict – Shaynna Blaze shared her secrets on transforming your living room into the ultimate binge bunker
When it comes to watching TV, Selling Houses Australia and The Block judge Shaynna Blaze knows a thing or two about setting up for a binge session.
"I've had lots of practice," she said in an interview with realestate.com.au.
"When we're on the road filming Selling Houses Australia, I have a lot of downtime in the evenings, and I'll just watch hours and hours of my favourite shows – I'm something of an expert."
With that in mind, RE.com asked Shaynna to share her top tips for designing a lounge-room custom-built for bingeing on your favourite TV shows or movies.
Here's how to create your own TV temple:
1. Set everything up for snacks
For Shaynna, it's all about having your TV snacks within easy reach – set up your viewing space so everything is easily accessible.
"'Bingeworthy' means that you have everything set up for your snacks and your drinks – that's number one," Ms Blaze explained. "Make sure your coffee table, ottoman or side table are all within 'lean-in'. This means if you're sitting on your couch, you can just lean right on into it. Under no circumstances should you need to step off your couch."
2. Get the right sized side tables
Forget one big, bulky coffee table – the ultimate TV binge space means everyone has their own snack station and somewhere to pop their drink.
"If you just have one really big coffee table it can be quite cumbersome, so maybe look at getting a nest of tables you can bring towards you, so all your snack selections can be around you," Ms Blaze said.
"Have them at different heights – one for your drinks, a lower one for your chips, and another for the cheese platter."
Because, after all, what's a night in front of the TV without a hunk of Gruyere to munch on?
"This is really essential – and yes, I have spent a LOT of time thinking this through," Ms Blaze said.
3. Use trays
Six hours into Succession and you can start to lose a few of your gross motor skills – use a tray to make sure everything is kept clean.
"Trays mean if you're sitting and you have a bit of spillage with your drink, or your popcorn is overflowing, it's all contained in a tray and you can wipe it all down," she said.
"This means the mess won't get everywhere and you won't ruin your tables or the fabrics on your couches or ottomans."
4. Have LOTS of cushions
Comfort is king, people – get that space of yours as plump and plush as possible.
"During some shows, you're going to be sitting bulk upright on the edge of your seat – you're going to need cushions behind you so you don't fall back," said Ms Blaze.
Oh, and remember to rug up.
"If you are sitting there for a long time, your blood flow doesn't work very well – you'll need a couple of rugs," Ms Blaze explained. "Make sure they're bigger than just knee-size – get the blanket off the end of your bed if you need to. Really settle in."
5. Pop your feet up
Forget those sleek, sharp mid-century numbers – get something your body can really mould to.
"Make sure you have a couch you can curl your feet up on. Really fall into it and give it the attention it deserves," Ms Blaze said.
6. Don't necessarily shut out the light
We've all done it – looked up from a day of binge-watching and realised it's actually Tuesday the following week. Avoid the delirium that can set in after hour 10 of your favourite show by making sure you still have natural light in your binge space.
"If you've got a block out [blind], you can get caught in a whole different world, and then come out and have a lot of guilt [when you've finished watching]," Ms Blaze explained. "If you have a bit of natural light in there, there's less guilt about binging."
7. Position your TV correctly
Try to find the best position for your television so you're not caught craning your neck, or squinting at the screen.
"I used to have a house that had a window opposite the TV and there was nothing I could do about it," she said. "It was all about positioning your head right, and the TV right, so you could miss all the glare."
Get your TV in the right position and this won't ever be a problem – experiment to find the right angle and height.
8. Make sure your pets are comfy, too
Everyone needs a binge buddy – Ms Blaze has a gorgeous puppy to keep her company. Their comfort is just as important.
"[My dog] has a basket of toys. If she is not getting enough attention, every toy in the box comes out," Ms Blaze said.
"But that's OK. I just throw the ball every now and then, or play a bit of tug of war. Wear [your pets] out for ten to fifteen minutes between episodes and you're fine."
9. To recline or not to recline?
We've all seen those custom-made TV recliners – fancy, right? But are they really worth the money?
"A chaise in your couch or even a chair with an Ottoman is good – a recliner is more for the people that want to sit there and have their drink holder, and feel like they're sitting in Gold Class," Ms Blaze said.
"I think a recliner is great if your room is big enough and if it doesn't look like a recliner. But I have to admit, visually I can't stand them."
10. Invest in a drinks trolley
Bar fridges next to the couch are a big no-no. Drinks trolleys? Totally acceptable, apparently.
"A beautiful drinks trolley with an ice bucket – lovely!" Ms Blaze said. "But no to fridges –- that's a step too far!"
The above information has been sourced from Realestate.com.au. To read the full article CLICK HERE.