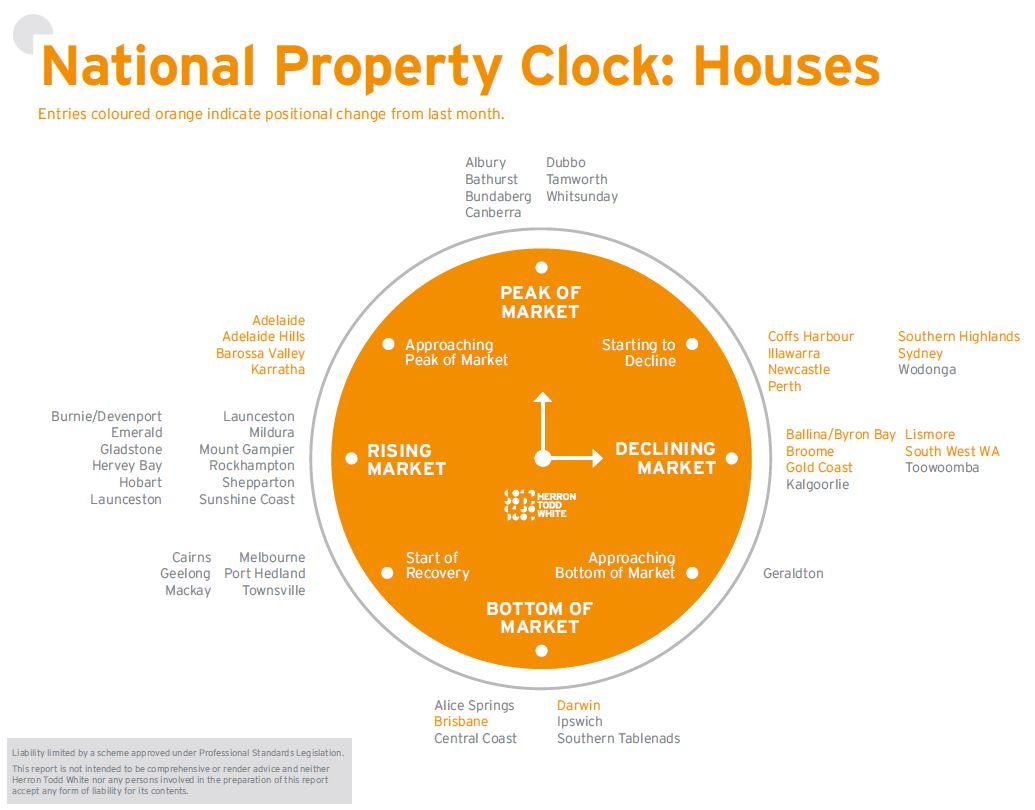 May Property Clock
Where does Brisbane currently sit in the cycle?
Houses = Bottom of Market (moved back from Start of Recovery)
Units = Bottom of Market (moved back from Start of Recovery)
What a month it's been! There's little in modern history that's dominated world-wide headlines like this crisis, and it feels as if the ramifications may run long.
In Brisbane, and Queensland more generally, it's been a rollercoaster ride. We've gone from out-and-out fear of the medical system being overrun while the economy plummets, to a feeling that there's a chartable course back out – all in a matter of weeks.
Like much of the country, the numbers about infections in our neck of the woods have been good. There were two days in the past week where we recorded no new cases over 24 hour periods. Just the booster everyone was looking for.
First up looking at the market overall – some general observations. There's been a noticeable reduction in listings and auctions with agents confirming that vendors are postponing their sales. This is understandable as in times of uncertainty, the confidence of achieving a desired price evaporates, so if an owner can afford to sit and wait this out, they surely will.
In a practical sense, the hit to valuation figures is still to be seen. Agents are reporting to us that sale prices continue to be at pre-pandemic values, however a significant slowdown of new listings to replenish stock levels has been noticed. Lack of stock usually means firmer prices, but in this instance, what's available might indicate a seller eager to offload their asset.
As the market has progressed, sales continue to transact at fairly healthy prices because there are still a number of buyers active in the market. Among them are those committed to buy due to having recently sold, those who missed out on properties previously or those that are seeing this time as a good opportunity to purchase.
Stimulus packages such as Jobseeker and Jobkeeper are helping support households at this stage too, but reports are that this assistance has a shelf life of around six months. If restrictions and other economic limits continue for longer, then problems may arise.
One of the other major developments in the past few weeks in Queensland was the passing of COVID-19 rental legislation. Just prior to the Easter weekend, the state government released a framework that would have seen a substantial power shift in favour of tenants. The framework confirmed the six-month moratorium on evictions, but also appeared to provide generous break-lease terms for tenants as well as a flexible approach to withholding rental payments. After a campaign launched and managed mostly by the REIQ to rebalance the framework, the state government changed elements of the guidelines and the new legislation passed through parliament.
Further anecdotal observations regarding rentals is that enquiry from tenants has slowed and property managers are reporting that some existing tenants are asking for rent reductions. At this stage, we've not seen substantive evidence of rents falling or vacancies increasing, but changes are fast moving so this is an area to watch closely.
Let's have a look at how different market sectors might perform as we progress through the crisis.
For the broader Brisbane market, locations and product type heavily reliant upon investor markets are expected to experience the biggest downturn over time. The investor market had already been slow to recover post the royal commission into banking and the current Coronavirus climate has compounded the negativity. Declining confidence, rising unemployment and general uncertainty all play their parts in this sector.
That said, there's no substantive or material evidence that investors' markets have seen price falls. In fact, while some inner-city locations have seen a significant drop in sales volumes, particularly in comparison to the first quarter of 2020, there are investors active in the market although many are adopting a wait and see strategy. A few are ready to purchase if they spot value.
Some agents have also reported increased interest from interstate buyers - particularly from Sydney - looking at properties via video walkthroughs and making offers without the benefit of a personal inspection. Many probably see Queensland as carrying less risk given how high prices are in the New South Wales capital.
Moving onto prestige property. Prestige price points in sought after inner-city locations have been more resilient and less impacted at this point in time. While any percentage drop in value over the long-term would translate into a substantial dollar impact, Brisbane's prestige property is reasonably affordable in national terms. This property type usually involves good fundamentals that help shore up values in the long term.
Onto First homebuyers, and there are some good opportunities at present with accessibly priced property likely to become more available. This segment suffers during uncertainty.
Taking the plunge into home ownership under current conditions might seem too risky for many first timers. In fact, most of the contracts which fell over in the early stages of the pandemic were noticeably first home buyers or investors. For those who have secured their finance and are ready to purchase, some excellent options will come their way.
So what would we buy in the current climate? Good quality, entry-level stock in prime inner city locations still weather the storm the best. Steer clear of properties in secondary locations or that are designed purely as investment product. If you are looking at units, larger and better quality apartments in good locations will fare better. Second-hand, large floor area, good quality stock in this market should perform better than new, small, investor style units of generic layout and finish.
Of course, if you can buy a home in a solid, near city location at around the median price point, then this would be the lowest risk option. You will probably be spoiled for choice over the coming months, so be ready to go and see if you can get some solid real estate at an enviable price.
In overall terms, it is expected that there will be further fallout with tighter listing numbers and less transitions overall in Brisbane. Logic dictates that if the economic fallout – particularly in relation to unemployment - extends for too long, a contraction in values is likely. However, at this stage, it seems the success of stimulus initiatives, lower interest rates and the overall success in keeping COVID-19 numbers low has bolstered confidence to a reasonable degree.
Would you like to know where your property sits in the market? Send me a message HERE, let me know where your home is and I will send you through some information.
The above information has been sourced from Herron Todd White's Month in Review Property Report. To read more of the report CLICK HERE.