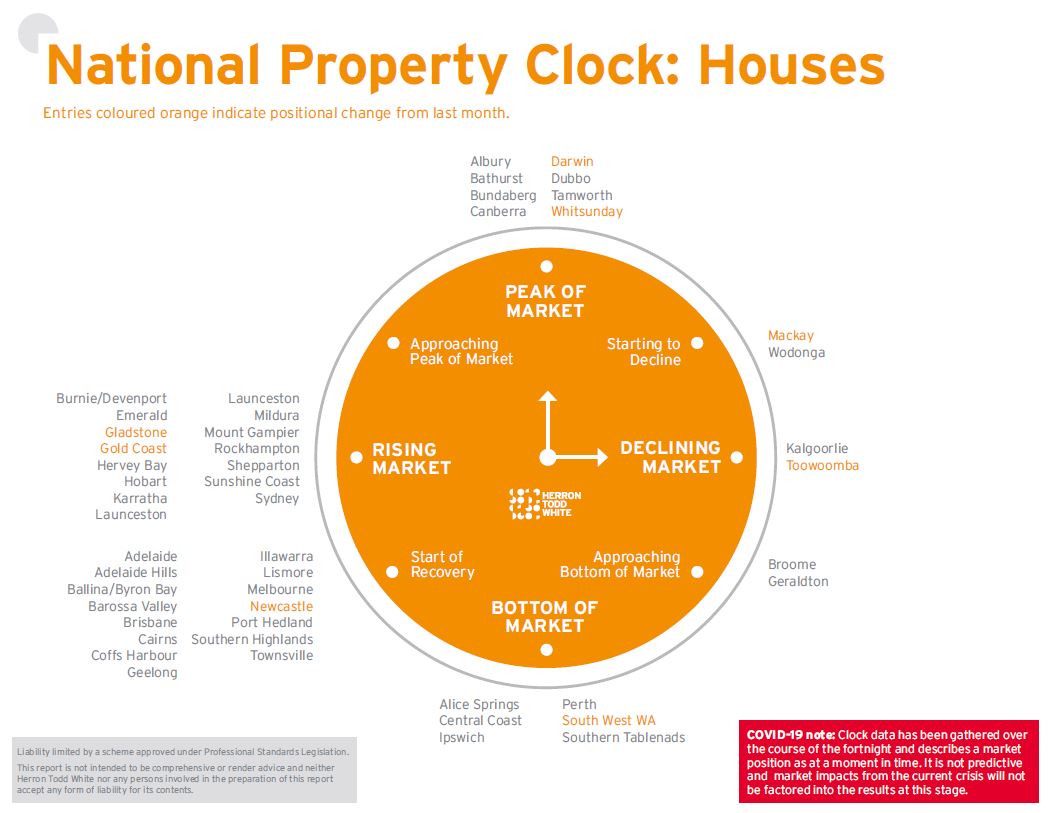 April Property Clock
Where does Brisbane currently sit in the cycle?
Houses = Start of Recovery
Units = Start of Recovery (moved up from Bottom of Market)
The quick progress of COVID-19 has brought swift ramifications for the real estate industry in just the last month. No open homes, no in-room auctions. In short, professionals are having to adapt quickly to ensure the economic wheels keep turning. It would come as no surprise that the overriding element at present is the medical, social and economic fallout from virus control measures. In Brisbane, the full effect is still to play out, but we can at least take some comfort in not having to deal with population densities like Sydney and Melbourne. A small blessing for the Sunshine State.
Let's look beyond COVID-19 and set aside the economic downturn and recovery period to some degree (as we're not certain as yet how long this challenging time will last). So, what are the elements that traditionally drive the Brisbane market and how might they look in the future? The metrics and measures we've customarily watched as Brisbane property indicators have included the general economic outlook (nationally and locally), employment numbers and job security, Queensland interstate migration, wage growth, interest rate movements, local, state and national elections and the availability of finance. It's a complex dance of interaction between these components that sets the level in terms of activity and price growth potential.
To give some perspective, 2019 saw a somewhat challenging start in the first half of the year with a number of headwinds. These included the banking royal commission that led to a redefining of lending policies by financiers. There were mid-year elections plus a feel that southern markets had overheated as well. We were also struggling to get our Queensland unemployment rate lower. All these elements contributed to our unimpressive residential market performance and general confidence.
Then, the second half of 2019 saw a market back on the rise. There was an increase in confidence as lending restrictions were loosened, Brisbane's major infrastructure projects got underway in earnest and interstate migration numbers continued to improve. It was, for all intents and purposes, looking like a very promising 2020 before the handbrake was applied by the pandemic. Of course, once we pass through this time of uncertainty, Brisbane property operators will be looking overall for leading indicators such as employment and wages growth. There will no doubt be an appetite for infrastructure projects to be back on track and, as mentioned, that all important net interstate migration number.
For those interested in some nuances, there are different drivers for different buyer types. For example, first home buyers in Brisbane are traditionally stimulated by affordability, the level of competition from investors, first home buyer's grant and stamp duty incentives, interest rate reductions and the ability to save for deposits and get finance. Some of these measures won't be applicable in the immediate wake of COVID-19, e.g. interest rate falls. That said, when markets return to normalcy, this list of drivers will be applicable.
For upgraders, interest rate reductions have been a keen driver of markets. The ability to draw on built up equity and borrow at a competitive rate has prompted many to act in the past. Of course, with rates being used as a lever to stimulate the economy at the moment, their ability to substantially drive the upgrader sector post-COVID-19 will be some time off.
Empty nesters who'd been looking to downsize and move closer to the city were, in the past, driven by the improvement of lifestyle factors. This would include the development or upgrade of community centric hubs such as cafés and restaurants. Those who are self-funded can also be prompted to move in response to available property types – in particular high-end apartment accommodation – where they can enjoy a comfortable, low maintenance lifestyle with the ability to lock-and leave for travel. Again, elements that may be some way off after the crisis passes and we're on the road to recovery.
Local drivers by property type aren't particular to Brisbane. What traditionally applies here could well apply to most capitals on the eastern seaboard. For units, the influence of oversupply and undersupply is paramount. Brisbane saw the fallout of new build oversupply during 2017 to 2019 as off-the-plan product came to completion. Many revaluations were coming in below the original purchase price. During 2019, we were seeing a pickup in absorption of this oversupply, but the post-2020 market is more uncertain at this stage.
The thing to keep in mind regarding apartments is that good quality stock which appeals to owner occupiers is often well received. It's this type of unit that will receive increased buyer interest post-2020. This includes units of good size and with a practical floorplan within close proximity of desirable hot spots. In comparison, typical investor style apartments in secondary locations will have less growth potential.
Similarly, townhouses within the inner city have performed well in comparison to those positioned in outer-lying suburbs. That said, performance can be project specific. Broadly speaking, well located, quality townhouse projects catering to the owner-occupier market have performed better, with stronger demand and value levels that are more resilient.
And of course, detached housing is the stalwart sector. Houses closer to the city tend to retain and grow in value better than those located further on the fringe. High demand and limited stock is the equation that's driven this traditionally.
Please appreciate that what we are dealing with is something that none of us have ever dealt with before and that each day things change. Let's see what the next month brings us.
Would you like to know where your property sits in the market? Send me a message HERE, let me know where your home is and I will send you through some information.
The above information has been sourced from Herron Todd White's Month in Review Property Report. To read more of the report CLICK HERE.