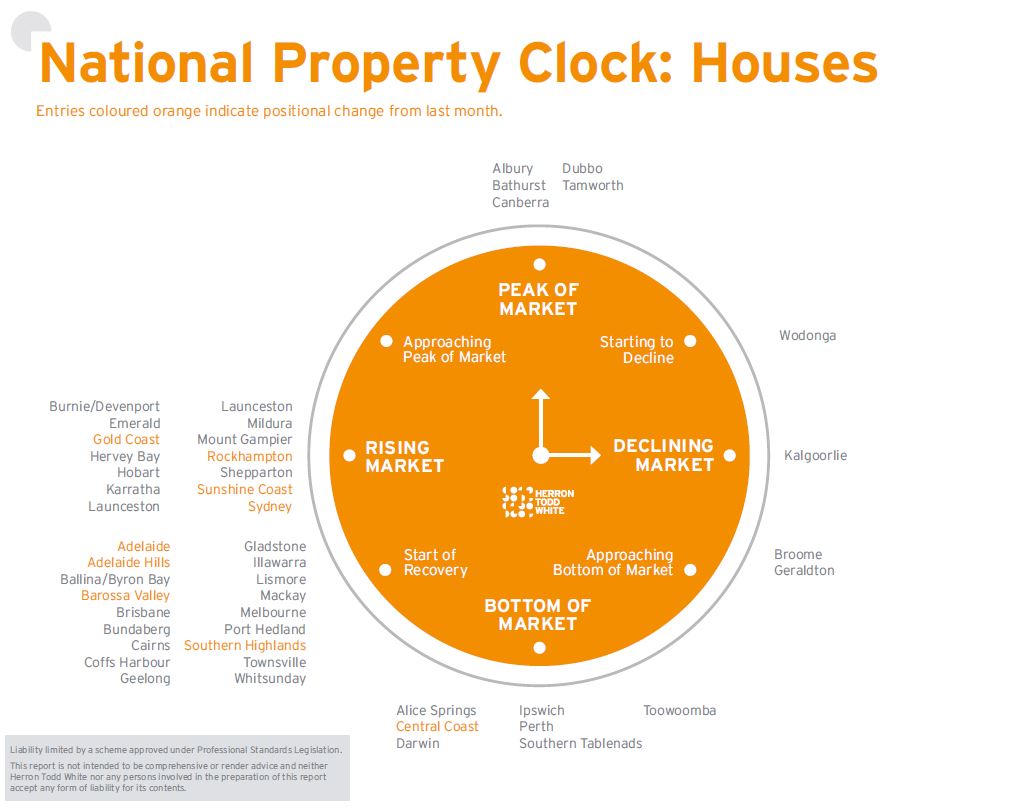 March Property Clock
Where does Brisbane currently sit in the cycle?
Houses = Start of Recovery
Units = Bottom of Market
You'd be hard pressed to find a more typical capital city market than Brisbane.
Our residential real estate sector performs relatively steadily throughout its price cycle, avoiding dramatic dips, swings, peaks and fluctuations. Long-term property owners tend to do fairly well as long as their asset selection is on the mark.
Like our prices, we also have a fairly typical range of buyer types.
Our first home owners are motivated by affordability and getting the most bang for their buck. Their tick list will obviously be driven by location, but they're also keen to find decent size allotments, potential for renovation, proximity to amenities and easy access to the CBD or a well-established lifestyle hub.
While many of our first home buyers would no doubt like to buy within the five-kilometre radius, their price point usually means a balance between location and property type and quality. As such, there are those able to cope with a second-hand unit in a prime near-city position, while others will seek a newer home on a larger lot in a suburb a bit further out.
Both options could appeal to first home buyers at a similar price point.
Of note also is that first home buyers are becoming more prominent in our market. The $15,000 state government first home buyer grant (which is limited to new property) and federal government deposit scheme are helping to boost their numbers. Add to that low interest rates as a motivation to getting first timers on the property ladder.
Upgraders in Brisbane are looking to draw on increased value in their existing homes to secure better-quality accommodation in their location of choice.
Their desired suburb will probably be dictated by their households needs. Young professional couples might look to move out of units and head towards a detached home with some renovation potential so there's opportunity to build fast equity. Upgraders are mostly looking for the advantage of more space or larger yards and hopefully improved location compared to their first home.
While upgraders will reside anywhere from outer suburbs through to near CBD depending on the budget, many find themselves in mid-range suburbs with easy access to the city. Think Annerley, Greenslopes or Stafford as examples.
Family buyers could almost be considered an advanced subset of upgraders. These buyers are typically driven to certain properties by school catchments, proximity to public transport, parks, amenities and lifestyle amenities.
While many family buyers might want to look for renovation potential, there are plenty who are motivated to acquire something ready to live in so as not to tie up their weekends doing upgrade work. Like other upgraders, family buyers can be found from outer suburbs to inner suburbs because their drivers depend on price point and school catchment.
Brisbane downsizers and empty nesters are of course looking for low-maintenance homes with lock-and-leave potential to allow for trips out of town - a smaller detached dwelling of good quality and with a low maintenance yard. We are also seeing ever increasing numbers seeking accommodation in high-end units of minimum two (even three) bedrooms. They like the security while still having space for the kids and grandkids to stay.
Downsizer locations vary from the CBD through to the bayside suburbs. Downsizers are also drawn to large apartments in suburban nodes within close proximity of shopping centres, amenities and hospitals. Chermside's apartments are an excellent example of this. Their chosen location may also reflect proximity to family. The quality of accommodation they seek is quite varied and dependant on financial position and stage of life.
Another buyer group in our city is the business professional. These buyers want to be close to the CBD or suburban nodes so their commute is short. Again, low maintenance is a priority as is public transport and lifestyle facilities. It's suspected that these buyer numbers may well increase from the interstate migrant cohort coming to Brisbane chasing a better lifestyle than in Sydney or Melbourne.
The above list is, of course, not exhaustive. We are seeing a societal demographic shift with the rise of single-person households, multi-generational homes, single-parent families and share ownership among friends. It's envisaged that these varying household makeups will spur innovative and thoughtful design changes that will become more common over the next few years. Think new property with separate living spaces for older kids or grandparents as an example.
Would you like to know where your property sits in the market? Send me a message HERE, let me know where your home is and I will send you through some information.
The above information has been sourced from Herron Todd White's Month in Review Property Report. To read more of the report CLICK HERE.