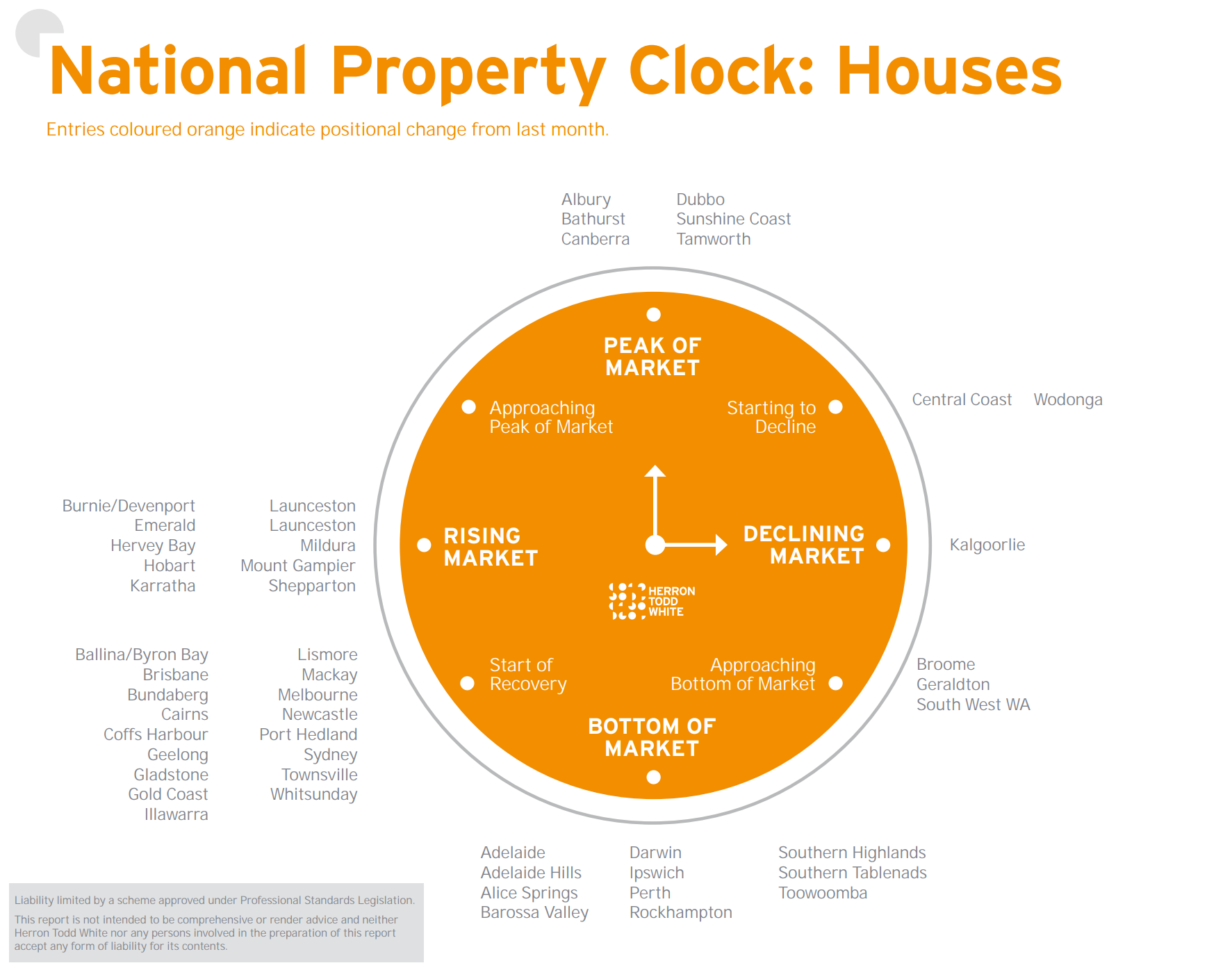 February Property Clock
Where does Brisbane currently sit in the cycle?
Houses = Start of Recovery
Units = Bottom of Market
We've been waiting in the wings for about a decade – hoping it's our time to shine and rocket up the property value charts. We've watched Sydney and Melbourne go from strength to strength while our property owners have generally been eking out modest gains at best. Positive moves, to be sure, but not head-turningly stellar.
It seems the long post-mining-boom hangover, which fed into diminishing employment numbers and plummeting net interstate migration all came into play and kept the prices subdued most of last decade. But things have been looking up of late – and with substance... and it lays solid groundwork for a positive 2020.
Firstly – net interstate migration numbers are now back up to a healthy level. In fact, close to numbers we last saw during years with hot capital growth runs. It's a combination of affordability or southern retirees seeking lifestyle to date, although further improvement in job numbers would help fill out the demographics of new QLD residents arriving from over the border.
Also – were in the midst of an infrastructure run that will help drive our Brisbane economy through to 2025 at least. Transport plans like Cross River Rail and Brisbane Metro all come into play. This means reduced commutes and more construction jobs. The highly anticipated Queens Wharf complex is firmly on the radar too.
Another good sign is that the oversupply of investor units from 2015-17 is being absorbed. Slowly, but surely, as these get repriced and taken up, the sector will strengthen.
So, what's the downside for Brissie?
Well, our overall economic health is still influenced by national and international factors. There's no escaping this. So long as uncertainty reins, we will feel the brunt of facets such as trade wars or political machinations. We are a relatively small player on the global stage.
Here are a few things to keep an eye on in 2020.
First up – the financial landscape. Tighter bank rules in 2018/2019 made securing loans tough and this had an absolute flow on to our market. If credit is freed up further in 2020, then this will definitely be a good thing for our real estate.
Another thing to keep an eye on is new tenancy legislation. If the proposed laws make it through parliament, it appears landlord's property rights will be diminished. Logic would say that by removing some of an owner's control over their investment property, that this will affect the values, but as to how this plays out we'll need to wait and see.
As to where to invest in 2020, never underestimate the tried-and-true approach that the fundamentals of property economics are always best displayed in Brisbane.
That's to say the closer you buy to our CBD, the more likely you will see capital gains. Add to that detached housing still attracts better growth premiums than attached housing.
So, the basics indicate that buying a detached home within as reasonable proximity of the city as best you can afford will be the surest approach this year. The flex points are you can travel further out but be nearby to public transport options, major services and employment centres.
If you were looking for locations at or around the median Brisbane house price – which is somewhere in the vicinity of $550,000 depending on which data house you ask – then head to the outer suburbs for a standard house, or look for something modest a bit closer in.
If you have more dollars to spend on a home, perhaps those 'next-suburb-out' addresses will have something for you. Try Chapel Hill and Kenmore to the west, Stafford Heights and Chermside to the north and Holland Park, Carina Heights and Moorooka south of the river. Of course, blue chip locations like Hamilton, Paddington, West End and East Brisbane should be good for anyone with decent coin to spend.
Stay shy of new build units and apartments in terms of price growth in 2020. If you are looking for something solid, please seek out a second-hand unit in a small complex but in a good location. Be close to café hubs and transport as a rule. Keep your eye on the old favourites such as Fairfield, Ascot, Auchenflower and Ashgrove as examples.
So – overall, we look forward to some decent, sustained gains in 2020 with a hope that the year proves to be a foundation for more impressive upside through to 2025.
Would you like to know where your property sits in the market? Send me a message HERE, let me know where your home is and I will send you through some information.
The above information has been sourced from Herron Todd White's Month in Review Property Report. To read more of the report CLICK HERE.