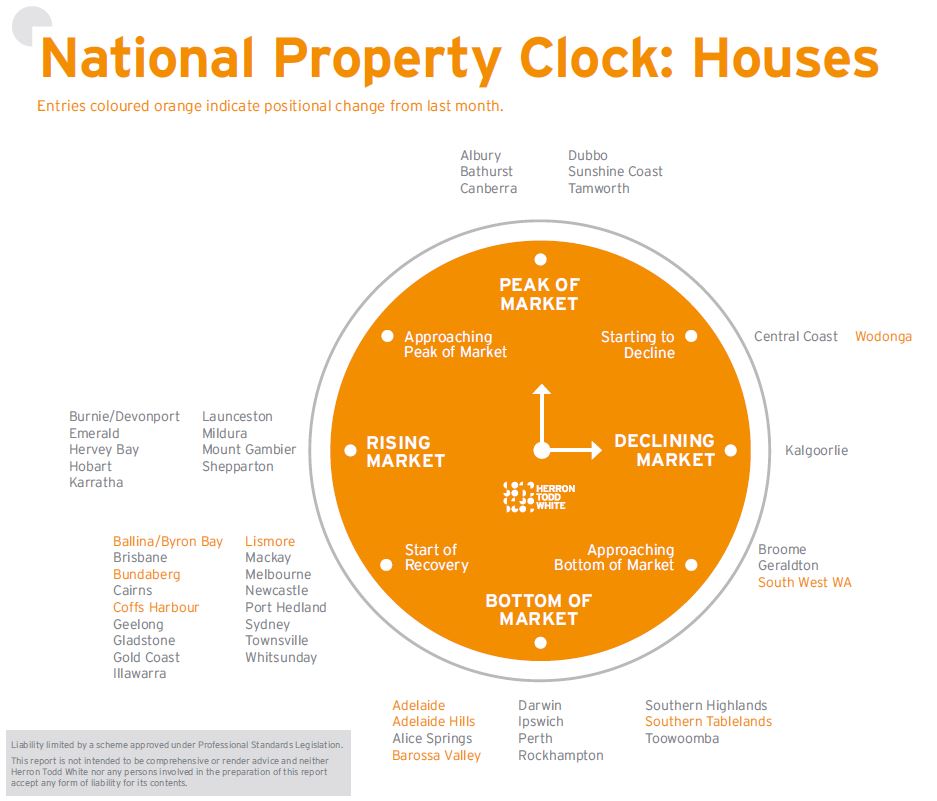 December Property Clock
Where does Brisbane currently sit in the cycle?
Houses = Start of Recovery
Units = Bottom of Market
Brisbane presented plenty of promise going into 2019. Experts predicted our region would continue to attract affordability driven capital city seekers, but values across most markets would relatively remain flat. And, for the most part, they were on the money. But, in truth, this is how our market has always operated. We aren't historically prone to huge fluctuations like Sydney and Melbourne, but rather (as a generalisation) take a steady-as-she-goes approach to price movements.
Looking at the upside, Brisbane continued to enjoy an increasing Net Interstate Migration (NIM) result this year. Compared to ten years ago, 2019 has seen a relatively impressive NIM outcome. It's a number that property owners should keep an eye on, because rising NIM usually tracks in tandem with increased real estate values. If it establishes an upward trend, the market can potentially be hotter than a December day at Southbank. That said, there were some macro challenges to tackle in 2019.
Significant headwinds manifested via the fallout from the Royal Commission, APRA's tighter lending guidelines and, of course, the federal election. Throughout all this, Brisbane's market experienced limited activity and demand, with a slight softening in values across the wider city.
Following the election and interest rate drop mid-year however, confidence returned and buyer activity increased with the market correcting and stabilising right through to this tail end of 2019.
By price sector, performance was varied. Assets priced sub-$2 million were most affected by the tighter lending conditions. Many purchasers looking to access funds had a hard time securing their dollars. It is also anecdotally observed that property listed for sale was taking longer to sell and vendors were tempering their price expectations. In addition, finance clauses on contracts were being pushed out to between 21 and 28 days and sellers were being conditioned by their agents to agree to this.
For properties priced above $2 million, the waters were a little calmer. These buyers didn't seem to be affected, due to their strong cash position and equity and as such the higher price points and prestige market performed reasonably soundly, albeit with limited stock available for purchase.
Looking at our city by location, we stayed true to our history of growth by proximity to the CBD. Demand for suburbs closest to the city centre was consistently better than for most of the fringe suburbs. Certainly, demand from cashed- up interstate migrants for high-quality, lifestyle-oriented homes played a role in this. In addition, near-city suburbs are seen as providing good quality, long-term stock worth holding onto. If you can afford to secure something within CBD proximity and it's a detached house (and you can service the debt for a cycle or two), you should generally be fine in terms of value resilience.
Middle ring positions also did pretty well and while some of the outer burbs saw price increases, the biggest rises were still within an easy jog of the CBD. Housing again held its own compared to units. There's just no denying Brisbane folk love their land.
Investor style units continued to see price softening, but price retractions in response to oversupply are slowing. Perhaps the most interesting element of the attached housing market is that owner occupier units did extremely well compared to their investor design counterparts.
Some other big takeaways from 2019 include the continued price growth potential of desirable school zones. If you're in the right catchment, demand remains high from buyers and that's translating into a handy premium for some property owners. Ask anyone looking to get into the Ashgrove State School catchment next year and you'll hear tales of tough battles to secure real estate. We've also anecdotally seen an increase in owners choosing to renovate rather than sell up and move. This is the result of multiple influences. Tough finance means it isn't as easy to get a loan for the new home. In addition, the figures show that if you can create the living space your family needs by modifying your current abode, it's much cheaper than dealing with the selling and buying costs of trading into a new residence.
So, in summary, our market pivoted mid-year to become a bit more confident, with excellent indications of sustained, long-term capital gains, particularly for detached housing within cooee of the CBD.
Would you like to know where your property sits in the market? Send me a message HERE, let me know where your home is and I will send you through some information.
The above information has been sourced from Herron Todd White's Month in Review Property Report. To read more of the report CLICK HERE.