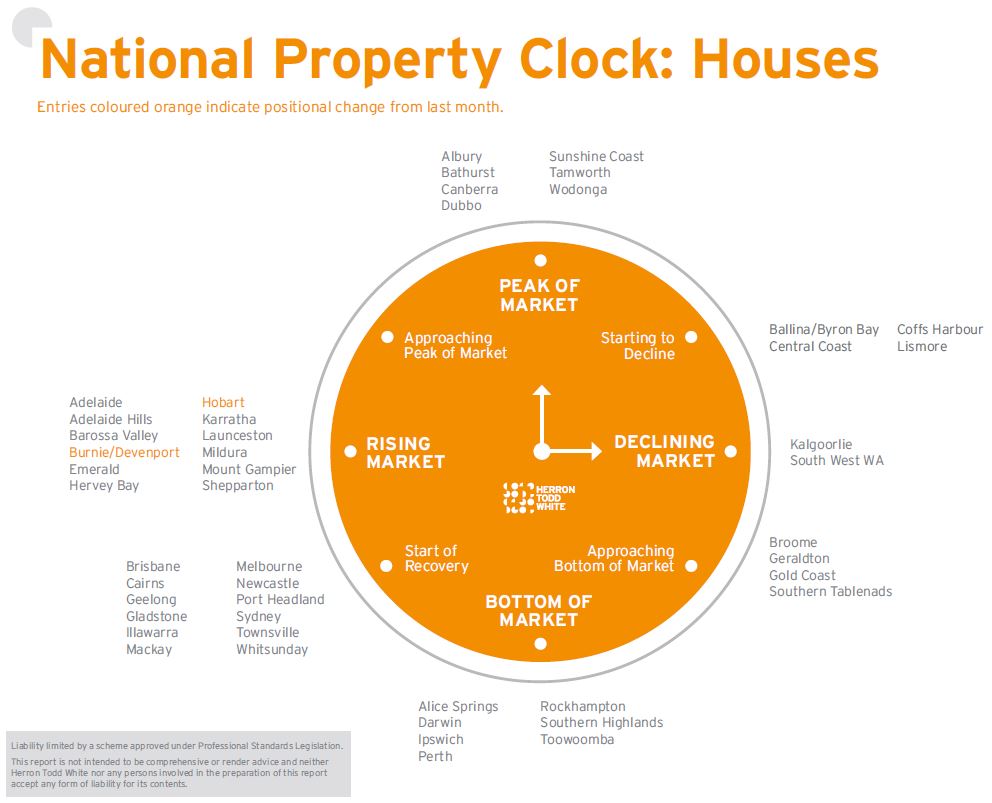 November Property Clock
Where does Brisbane currently sit in the cycle?
Houses = Start of Recovery
Units = Bottom of Market
While Brisbane is regarded as the affordable eastcoast capital by many, we still have our fair share of property stunners set to whet the appetites of cashed up buyers. Of course, our brilliant outdoor lifestyle combined with easy-going existence, simple CBD access, river and mountain aspects as well as relative abundance of space all combine as attractive foundations for creating quality property desire.
While the number of prestige sales in 2019 has actually been lower than in previous years, there's still been plenty of property that's changed hands at the rarefied end of the city's price parameters.
For starters, there was 95-99 McConnell Street, Bulimba, which is now under contract for $8.4 million. A palatial five-bedroom, three-bathroom (plus two powder rooms), double-garage home all set on a 1,473 square metre site with 32 metres of Brisbane River frontage. The two-level home offers over 950 square metres of space and is finished to a luxe level. Included are a wine cellar, garden pavilion, inground pool and two private pontoons for mooring your tinnie.
For those who want a riverfront home in New Farm without the hassle of a boardwalk between your boat and the open water, then 39 Griffith Street will give you an indication of what it takes. This postwar property on 873 square metres sold for $7.75 million in March 2019. While there's no doubt the dwelling looked a bit dated, the position can't be beaten. It's easy to see this was all about location, location, location.
Reports have come through of a major off-market transaction in October. The Courier Mail recently published the story about 1 King Arthur Tce, Tennyson which reportedly sold off-market for more than $16 million. The property sits at the junction of the Brisbane River and Oxley Creek and provides over 4000 square metres of land with close to 100 metres of water frontage. The family built the Bayden Goddard designed home in 2010.This benchmark sale is the second-highest price achieved in our city's history.
Of course, while Brisbane has a number of detached homes that appeal to prestige buyers, there are apartments that also push the top tier price points. 10/170 Bowen Terrace, New Farm which sold for $6 million in July this year is a prime example. This two-level penthouse apartment provides four-bedroom, four-bathroom accommodation with garaging for six cars. The views are a knockout taking in the city, Story Bridge and Brisbane River from the couch. As you'd imagine, the fit-out is exceptional with granite, timber and glass all featuring. Other swoon-worthy elements include a private lift, sculptured light features and a separate kitchen scullery.
If you've got deep pockets and are on the hunt for something special, then here are a few current listings worth checking out. Of course, this is at the time of writing, so don't be disappointed if they've changed hands by the time you read this.
33b Harbour Road, Hamilton is listed as for sale by negotiation. When the Portside project at Hamilton came out of the ground, the developers created two stand-alone waterfront properties for themselves. This is one of the pair. It's a Shaun Lockyer Architects designed home of 1,034 square metres with eight bedrooms, nine bathrooms and a four-car garage. It's a striking design that offers a surprising amount of privacy in this now busy lifestyle hub. Apart from the extraordinary high-end finish, the property includes a cantilevered heated swimming pool with adjoining bar and kitchen, internal lift, climate-controlled wine cellar and an open-air fire pit. The property previously sold for $11.8 million in April 2015.
1 Leopard Street, Kangaroo Point – is listed as for sale and has heads turning once more – not least of all because its previous sale of $18.488 million in November 2016 set a house price record for Brisbane. This cliff-clinger is a three-level property which holds a renowned position. The 1,184 square metre site affords a unique aspect of the river, CBD and mountain ranges. The home provides for six bedrooms, six bathrooms and five-car accommodation. The fitout is exceptional, of course, with an internal lift, huge terraces, underfloor heating, infinity pool, wine cellar, gym and cinema.
101 Welsby Street, New Farm is for sale by expression of interest and is sure to fetch a pretty penny. This is a characteristic Queensland colonial in one of the city's most desirable suburbs perched upon a 2,127 square metre site with direct river frontage. For those with an eye for grand classics, this 1882-built home has it going on. Wrap around verandahs, high ceilings, VJ timbers, polished timber floors and stained glass. The home provides four-bedroom, three-bathroom, eight-car accommodation. The property encompasses three allotments and the owner is accepting offers on one of the blocks as a vacant site during the campaign.
10 Morgan Street, Ascot is also listed for sale by negotiation. With five-bedrooms, six-bathrooms and six-car accommodation, this home is a striking blend with views across to the CBD, river and ranges. It's very much a new-design in one of Brisbane's recognised old-money suburbs. It's huge too with 1,470 square metres of living area fit on a 920 square metre allotment. The home has a commercial-level fitout, infinity pool, internal lift, oversized bar and entertainment area, wine cellar, media suite, gym and steam room.
Last of the listings is 17 Julius Street, New Farm The property is a 688-square-metre site with 38 metres of Brisbane River frontage, private pontoon and views taking in the river, bridge and CBD skyline. The Kevin Hayes-designed, three-level home has four bedrooms, three bathrooms and four-car accommodation. That said, the block's position and outlook lend it to a demolition and rebuild for a cashed-up buyer.
To finish off with something a bit unique in the Brisbane market, it's tough to go past 94 Minimine Street, Stafford which sold for $3 million in June this year. This is very solid, high-end real estate. A 1,783 square metre block improved with an architect designed two-level contemporary home providing four-bedroom, four-bathroom accommodation with a ten-car garage! Advertised as the ultimate entertainer, the home includes a competition-level double lane bowling alley, neon lit bar, wine cellar and Gold Class cinema room. The sale is also reported to include a pool table, air hockey table and pinball machine.
Would you like to know where your property sits in the market? Send me a message HERE, let me know where your home is and I will send you through some information.
The above information has been sourced from Herron Todd White's Month in Review Property Report. To read more of the report CLICK HERE.