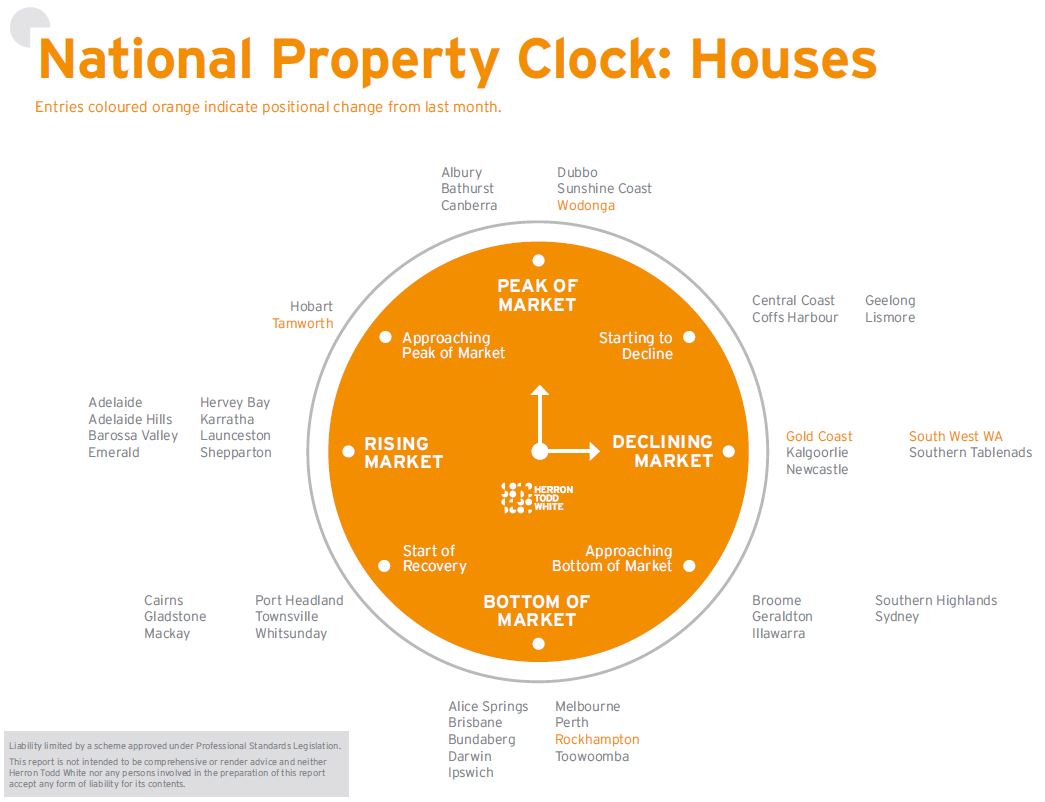 August Property Clock
Where does Brisbane currently sit in the cycle?
Houses = Bottom of Market
Units = Bottom of Market
Brisbane is the capital city poster child of how property fundamentals drive values. We have a central, riverfront CBD that's been the bulls-eye for concentric circles of growth throughout the city's history. And so, the adage about location rings true. Traditionally, the old rule of property economics has broadly applied – if all else is equal, then the closer a suburb is to the CBD, the more valuable its land per square metre. Moving beyond this measure and there are other fundamental factors to consider.
Proximity to the river works as well – especially if you have a frontage or a view. That said, school zones have certainly become a key draw card too. While excellent public schools help drive price growth, private schools play their part as well. School-centric communities can become, in some instances, a family lifestyle choice where the parents and friends you come to know from the drop-off zone are the neighbours you might invite to a barbecue after Saturday's rugby match.
Café hubs are also excellent indicators of desirable suburbs. The key metric is often within five minutes' walk of a decent cuppa. It can be very satisfying for residents to stroll down to their favourite barista while watching those who are living further away hunt for one of the hotly contested car spaces in these magnetic clusters of urban retail and restaurants.
With these fundamentals ringing in our ears, let's see what the various local buyer types might rate as essential in Brisbane.
Our real estate is regarded as relatively affordable by large capital city standards. As such, our first home buyers, including hip youngster homeowners, new families and first-time investors, have a reasonably wide choice available. That said, they are still cost-conscious and this will be the overriding determinant in property selection when it comes to dwelling, unit or townhouse, and whether they buy old or new. First home family buyers will want everything on their bucket list for as cheap as possible of course, but will compromise on the fixable things as opposed to location – more often than not their choice will be a fairly modern home but of modest size on a smallish block in their suburb of choice.
The other option might be a two plus bedroom townhouse. Many are seeking new housing estates with comprehensive facilities as well. There will be affordable housing available and with plenty of shopping and transport, their family needs are well looked after. Single person households will typically look at small two-bedroom dwellings, two-bedroom townhouses or one-bedroom units in great locations with plenty of lifestyle on offer.
Stepping toward the upgraders market and it can be a little more difficult to pin down exactly what elements appeal as fundamentals, and that's because this cohort has a variety of different wants. Most will want a bit more room – both in terms of land and house – but many like to buy near their first home as well. It's not surprising really. As a resident, you become familiar with an area. If they do move away when upgrading, the majority in Brisbane will gravitate closer to the CBD rather than further out. This often means purchasing at a higher price point for a lesser home. The upgrader market is also the demographic most attracted to great school zones along with proximity to amenities including public transport, parks and hospitals.
Fundamentals for the prestige buyers will be about prime real estate in a prime location. Typically, proximity to the CBD is on the tick list, however some will seek acreage in the city's rural residential enclaves or a bay side lifestyle. For those spending a bit more, views of the CBD, Brisbane River or Moreton Bay are a great attraction – even better if you can get frontage to a shoreline or river bank. If the buyer is inclined to a rural residential parcel, comprehensive ancillaries such as pool and tennis court along with enough room to run a horse will be convincing additions.
Brisbane is a fabulous city and as you can see, has plenty of property with the right fundamentals to attract all buyer types.
Would you like to know where your property sits in the market? Send me a message HERE, let me know where your home is and I will send you through some information.
The above information has been sourced from Herron Todd White's Month in Review Property Report. To read more of the report CLICK HERE.